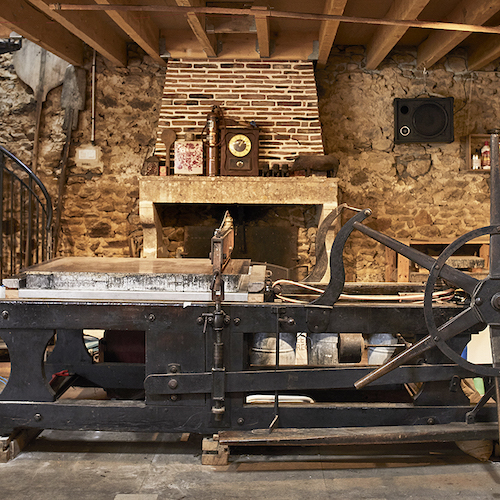 Atelier le Grand Village, founded by Francis van der Riet is situated in the South of France where artists from the African continent come to work and revive the art of stone lithography. Artists enjoy working at the Atelier, collaborating, sharing and exploring diverse techniques from the rich experiences encountered here.
All works are handmade stone lithographs using French presses dating from the 1860s. Other techniques are also integrated using monotype, lino gravure and photo plate lithography. The stone lithography process is the favoured technique at the Atelier as it respects most the quality and sensitivity of the artist's drawing.
The Atelier has worked with a selection of artists, mostly young South Africans who have won the Gerard Sekoto Prize and who came to France on residency at the Cité International des Arts in Paris.  Artists from Southern Africa that have worked at the studio include Bambo Sibiya, Mongezi Ncaphayi, Banele Khoza, Hanneke Benadé and Diane Victor. We have also worked with the Kenyan artist Evans Mbugua  All editions produced at the studio are registered with the Bibliothèque Nationale de France.