Moriarty&Balbás
I Play on the Ledge of Sadness (photo still)
Store Review (0)
PRESENTED BY : Moriarty&Balbás
Call for Price
SKU
moriarty&balbás_i-play-on-the-ledge-of-sadness-photo-still
More Information

| | |
| --- | --- |
| Medium | Inkjet Print on Hahnemuhle Fine Art Baryta Satin Paper |
| Height | 55.00 cm |
| Width | 70.00 cm |
| Artist | Moriarty&Balbás |
| Year | 2020 |
Photo still of the video "The ledge of Hope", 2020
During three months (10th March to 10th June 2020) Madrid has been one of the epicentres of the Covid19 apocalypse. Those of us who remained stranded in the city in that period, confined in our homes, have dwelled an intimate time and space, a present in brackets, with no other references to the outer world apart from the fear transmitted by the daily news, fear of infection and death that seemed to corner us, fear of that viral enemy stalking us on the doorknobs and banisters, on every wrapper from the supermarket and, above all, fear of the others.
Three months have we been aground on a shore without windows to the uncertain future. We only found shelter looking inside and towards the past. The two of us, each one bounded in our apartment, experienced loneliness and confinement in a compatible way. We both needed to give shape to this unique state of mind by means of art works, each one through our own distinct character, background and present, just to find out, that there was a similar tone in our narrative, a common thread, a shared poetic, as if our new confined and captive eyes were acquiring a common sharpness and depth.
In one of our daily phone conversations we talked about this new perception that looked so honest and fresh to both of us. We shared what we had been filming with the enthusiasm of two children about to play their favourite game, and when we both saw each other's work - still without being able to share the same room , we noticed a similar language, a parallel chromatic world and rhythm, an analogous choreography and approach to our private worlds. We immediately realized we were making two pieces that were meant to exist as a whole.
Although creating them separately, we somehow had been together the whole time. It was like two pieces of a puzzle which make total sense and fit perfectly together, one strengthening the other, completing their common meaning as a core. We both were talking about time, loss, vulnerability, love, hope and courage; we were, and still are, standing on The Ledge of Hope.
Truth, handicraft, commitment.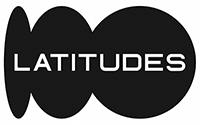 Download PDF