/ɪˈnɪɡmə/
noun: enigma; plural noun: enigmas
Photographs that are without a home.
Family albums hold images that are lost despite being housed in the albums. Nobody can identify the people in the photographs. I wanted to make these photographs precious again, too, somehow validate that loss.
There are moments when I interpret the photographic medium from a comparative standpoint. It is constant, but there is a possibility of an ever-changing view, a perspective that is familiar, that you can revisit, but it is changed and you are changed every time you see it, every time you experience it.
The series began through my desire to see the photograph as an object.
I wanted to find out what change meant for me.
"to become something different than what they were originally intended to be" yet still remain the same.
The images represented "a life, a face, a moment, but only through a momentary glance." By altering them I hoped to playfully create an enigma to the stories beneath the surface by using the images as a surface, creating an unknown.
It is the unknown that releases the photographs and allows them to become something new."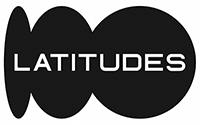 Download PDF