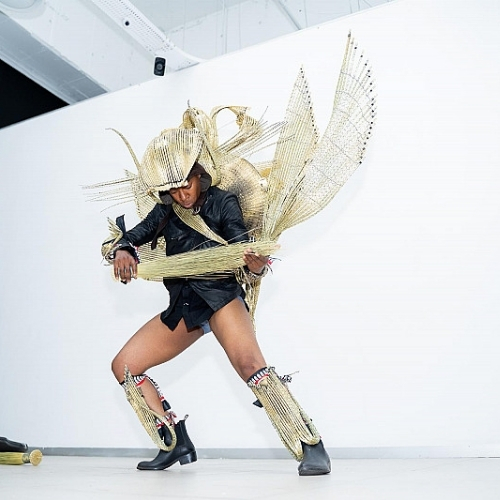 Adejoke Tugbiyele is a multi-award-winning artist and activist who was born in Brooklyn, USA and is of Nigerian descent. She is a U.S. Fullbright Scholar and was awarded the Grand Prix Leridon in 2019, the Joan Mitchell Painters and Sculptors Grant in 2016, the William M. Phillips '54 Scholarship for Best Figurative Sculpture in 2013, the Amalie Rothschild '34 Rinehart Awards in 2012.
Tugbiyele was a featured participant in the 2017 CultureSummit in Abu Dhabi and was named one of 100 Leading Global Thinkers in 2015. Her artworks are charged with symbolic meanings that bridge and layer historical, cultural and political ideas around race, gender and sexuality with that of class, economy, sex-politics and religion. They examine the role of religion in defining the way we view our bodies, as well as the subversive role spirituality can play in reclamation towards healthy forms of self-love and acceptance.
Tugbiyele works in diverse mediums including wire, natural fibres, bronze, fabric and wood - amongst others - to create exquisitely intricate 2 and 3 dimensional artworks which are on occasion integrated into moving performance works. Her works grace important corporate, public and private collections including The Brooklyn Museum, Smithsonian Institution, Leslie-Lohman Museum of Gay and Lesbian Art, National Museum of African Art, The Newark Museum, Credit Suisse Bank and Sugar Hill Capital Partner -amongst numerous others.
Tugbiyele's works have been mentioned and reviewed in many leading publications and she is regularly invited to contribute as a panelist in dialogues hosted by reputable institutions around the world. She received a Bachelor of Science in Architecture from the New Jersey Institute of Technology in 2002 and a Masters of Fine Art in Sculpture from the Maryland Institute College of Art in 2013.
Read More
There are currently no artworks by this artist available on Latitudes. Please contact info@latitudes.online if you would like us to source works.