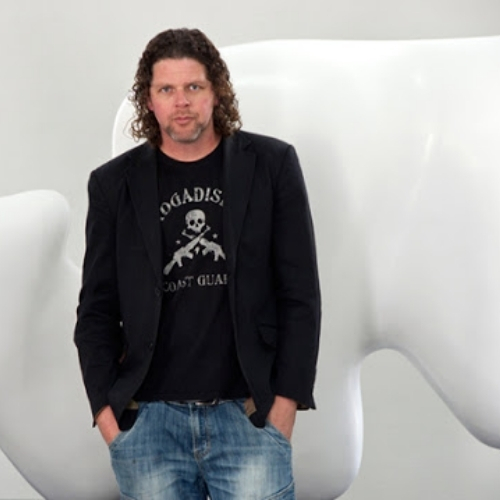 Andre Stead is a celebrated sculptor who is passionate about the human form. He lives in Cape Town and works across different mediums including plastic, metals, and even carbon fibre to create sculptures that often have a beautiful almost Art Deco form.
Stead attended the Pro Arte School of Arts in Pretoria (1989 – 1993) where he studied painting and graphics. He flourished at art from an early age, attending regular art classes from age 6. He received various merits and awards for his artistic abilities and continued to study in several artistic disciplines including painting, sculpture, printmaking and graphic design. In 1994, he relocated to Cape Town where he trained in metalworking under the direction of John Allesandri. He worked extensively with wood during the late 1990s and also worked at the Doyle Art Foundry (1997-1998) to become familiar with the mould making and bronze casting processes. He later started working at the Bronze Age Art Foundry, where he became efficient in all the various stages of the lost-wax casting process.
In 2010, Stead started working on the 'Anamorphic' series, launching it with a solo exhibition 'Evolution' in August of 2011 in Franschhoek at IS ART gallery. During 2011 he was commissioned by Laurence Graff to create a sculptural installation, 'Flight of the Swallows' for the Indochine restaurant at the Delaire Graff Wine Estate in Stellenbosch. Over the next two years, Stead created a collection of installation artworks using stainless steel and plexiglass as a medium. He developed two new bodies of figurative sculpture in various mediums, including bronze and aluminium. The 'Illumination' exhibition opened during July 2012 at the Christopher Møller Art Gallery in Cape Town, followed by the 'Elemental man' exhibition at the Knysna Fine art gallery. The Anamorphic Series directly influenced both bodies of work.
Stead's technical skill and first-hand experience in a multitude of materials and sculpture processes have allowed him to produce work of exceptional quality with high expression and elegance.
Stead questions the nature of human perception and the expression of beauty and life. He believes in the good of people and that we are intrinsically part of nature - not separate from it. He still exhibits at the Christopher Møller Art Gallery in Cape Town.
Read More