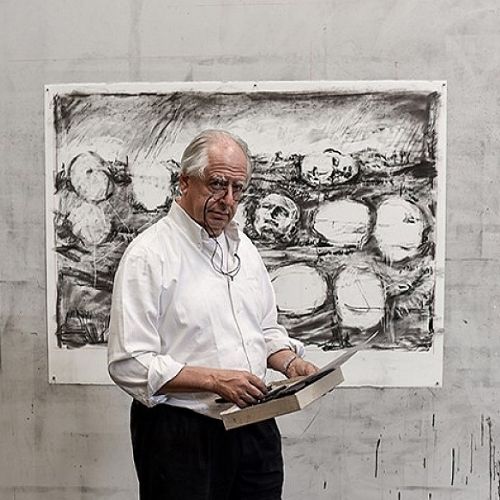 Kentridge, who was born in 1955 in Johannesburg, South Africa, is a multidisciplinary artist – a printmaker, a director of theatre and opera, a draughtsman and an animation filmmaker. One might call him a maverick of the arts for the unparalleled ways in which he combines old and new artistic mediums, such as film and charcoal. While he does not define himself as a "political artist", Kentridge is widely regarded as the go-to contemporary South African artist whose work cannot be detached from his country's recent history and fraught present.
While many artists dabble in printmaking on the side of their practice, Kentridge is a modern pioneer in the medium – drawings and theatre projects regularly emerge from his prints, and vice versa. For Kentridge, printmaking is in itself a multi-disciplinary practice, considering an "etching as an extraordinary, ridiculously complicated form of animation," knowing that a single plate will constantly be reworked, resulting in several different states.
One of the key characteristics of Kentridge's practice is the inter-relatedness of his various forms of work. Often, he is working on a multitude of projects simultaneously and so the works on one medium inform works in another, and there are strands of narrative running from project to project. When he is producing an opera, it's probable that he is doing some drawings and prints on the way. The Nose series, for instance, was inspired by the adaptation of Shostakovich's opera, The Nose, that Kentridge did for Metropolitan Opera New York, and contains traces of that as well as the previous opera – Mozart's The Magic Flute – print projects, such as L'Avanzata Inesorabile, and projects yet to come.
As the winner of countless awards and honorary titles, Kentridge is considered one of the most important artists working today. His extraordinary range is acknowledged and credited for having "followed its own unique path, irrespective of contemporary fashions" (Ben Eastham for Apollo, vol. 182, no. 637, Dec 2015).
Kentridge's work is placed in hundreds of collections worldwide.
Read More