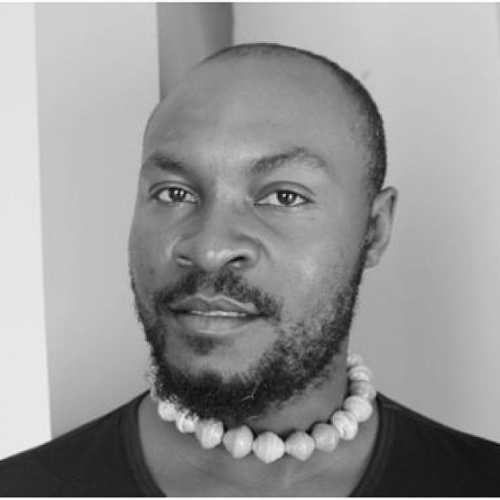 "I am fascinated by the devastating effects of humanity's greed and the impact on its victims, haunted citizens of a nation that has ceased to function – people who struggle to survive in a place cursed by a past that defies description, and history that will not release them from its death-like grip. I wonder about human survival mechanisms in a land ravaged by social and economic problems. My work explores alternative forms of life and urban realities – African Life."
Claude Biangani, aka Effo, was born in the heart of Africa; Isiro, Democratic Republic of Congo (DRC), and currently lives and works in Cape Town, South Africa. After obtaining a state diploma at the Institut des Beaux Arts, he went on to complete a Fine Arts degree at the Academie de Beaux Arts in Kinshasa (2005), specialising in sculpture. His work encompasses a variety of media, including painting, found objects and mixed media. His work is informed by the challenges he has faced and his own experiences, as well as the day-to-day life and struggles of the people of the Congo, and of the African continent. Through his mixed media artworks, he explores the security and protection of African heritage.
He has exhibited and attended workshops in both South Africa and in the DRC, including SANGISA SANGISA Collective group Exhibitions in Cape Town, several Member's Exhibitions at the AVA Gallery to name a few.
"Effo is inspired by the challenges he faced and his own experiences. He works in mixed media using resin, wood and paint and is an accomplished sculptor shifting between 2D and 3D surfaces."
- Hanneke Benade, Artist Mentor
Read More