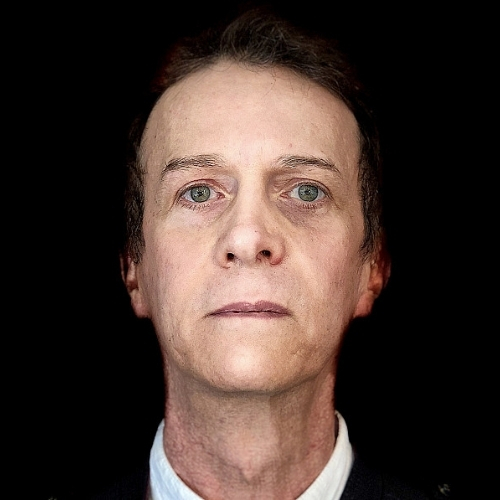 Born in 1969 in Kabwe, Zambia, Emmanuel graduated from the University of the Witwatersrand, Johannesburg in 1993. In 1997 The Ampersand Foundation made him the first recipient of the Ampersand Fellowship with a three-month residency in New York. In 2002 he was awarded first prize for AIR ON THE SKIN in the Sasol Wax in Art Competition, Sasolburg, South Africa.
Emmanuel employs various media to reveal layered visions concerned with his identity living in post-apartheid South Africa.
In 2004 Phase 1 of his series of counter-memorials THE LOST MEN, was launched on the Grahamstown National Arts Festival main visual arts programme. In 2007 Phase 2 of this project took place in Maputo, Mozambique.
In 2008 his touring solo museum exhibition TRANSITIONS premiered at The Apartheid Museum, Johannesburg featuring his critically acclaimed short, non-narrative film 3SAI: A RITE OF PASSAGE. The film won the 2009 jury prize at Edinburgh's 4th Africa-In-Motion International Film Festival, UK and the 2010 Best Experimental Film Award on the 5th Sardinia International Film Festival, Italy. TRANSITIONS debuted its 2010 international tour at the Smithsonian National Museum of African Art, Washington DC, USA.
Emmanuel was selected as the 2011 Featured Artist with his solo exhibition TRANSITIONS MULTIPLES for the FNB Joburg Art Fair, South Africa and in 2012 he was granted the Institut Français Visas Pour la Creation research residency, Paris, France.
In July 2014 THE LOST MEN FRANCE was temporarily installed adjacent to the Thiepval Memorial to the Missing of the Somme, Northern France as an intervention in the Somme Circuit of Remembrance and as an official event of the World War One Centenary.
In June 2015, the remains of this anti-monument were installed at Freedom Park Museum, Pretoria, South Africa in an exhibition titled REMNANTS which toured to Boston University's 808 Gallery, Massachusetts, USA in January 2016 and The Reservoir at Oliewenhuis Art Museum, Bloemfontein, South Africa in May 2017.
MEN AND MONUMENTS opened at Wits Art Museum, Johannesburg, South Africa in March 2020 with the launch of the monograph titled PAUL EMMANUEL (Wits Art Museum), edited by Professor Karen von Veh and with writings by Professor emerita Annette Becker (University of Paris-Nanterre, France), Professor Karen von Veh (University of Johannesburg, South Africa) and Associate Professor emerita Pamela Allara (Brandeis University, Massachusetts, USA).
Emmanuel lives and works in Johannesburg.
Solo exhibitions & public installations (c = catalogue) (m = monograph)
2021    PAUL EMMANUEL: SUBSTANCE OF SHADOWS, University of Johannesburg Art Gallery, Johannesburg, South Africa (m)
2020    PAUL EMMANUEL: MEN AND MONUMENTS, Wits Art Museum, Johannesburg, South Africa (m)
2018    IMPERMANENCE, Fried Contemporary Gallery, Pretoria, South Africa (c)
2017    PAUL EMMANUEL: REMNANTS, The Reservoir, Oliewenhuis Art Museum, Bloemfontein, South Africa (m)
2016    PAUL EMMANUEL: REMNANTS, 808 Gallery, Boston University, Massachusetts, USA (m)
2015    PAUL EMMANUEL: REMNANTS, Freedom Park Museum, Pretoria, South Africa
2014    THE LOST MEN FRANCE, World War One Centenary, Thiepval Memorial to the Missing of the     Somme, France (c) (m)
2011    TRANSITIONS MULTIPLES, Featured Artist, FNB Joburg Art Fair, Johannesburg, South Africa (c) (m)
2011    TRANSITIONS MULTIPLES, Goya Contemporary Gallery, Baltimore, USA (c)
2011    PAUL EMMANUEL: TRANSITIONS, Maryland Institute College of Art, Baltimore, USA (m)
2011    PAUL EMMANUEL: TRANSITIONS, Kunst:raum Sylt Quelle Foundation, Rantum, Sylt, Germany (m)
2010    PAUL EMMANUEL: TRANSITIONS, Smithsonian National Museum of African Art, Washington DC, USA (m)
2009    PAUL EMMANUEL: TRANSITIONS, Spier Old Wine Cellar Gallery, Stellenbosch, South Africa (m)
2009    PAUL EMMANUEL: TRANSITIONS, Albany Museum, National Arts Festival, Grahamstown, South Africa (m)
2009    THE LOST MEN, Kunst Raum Sylt-Quelle, Rantum, Sylt, Germany (m)
2009    PAUL EMMANUEL: TRANSITIONS, KZNSA Gallery (KwaZulu-Natal Society of Arts), Durban, South Africa (m)
2009    PAUL EMMANUEL: TRANSITIONS, William Humphreys Art Gallery, Kimberley, South Africa (m)
2009    PAUL EMMANUEL: TRANSITIONS, Oliewenhuis Art Museum, Bloemfontein, South Africa (m)
2008    PAUL EMMANUEL: TRANSITIONS, Apartheid Museum, Johannesburg, South Africa (m)
2007    THE LOST MEN MOZAMBIQUE, Catembe Ferry Jetty, Maputo, Mozambique (m)
2006    PAUL EMMANUEL: AFTER-IMAGE, Villa Arcadia, Johannesburg, South Africa (c)
2005    PAUL EMMANUEL: AFTER-IMAGE, Constitution Hill, Johannesburg, South Africa (c)
2005    PAUL EMMANUEL: AFTER-IMAGE, Oliewenhuis Art Museum, Bloemfontein, South Africa (c)
2004    PAUL EMMANUEL: AFTER-IMAGE, University of Stellenbosch Art Gallery, Stellenbosch, South Africa (c)
2004    THE LOST MEN GRAHAMSTOWN, Monument Hill, National Arts Festival, Grahamstown, South Africa (c)(m)
2003    PAUL EMMANUEL: AIR ON THE SKIN, Standard Bank Gallery, Johannesburg, South Africa
2000    PAGES FROM CATHEXIS, Open Window Contemporary Art Gallery, Pretoria, South Africa

Selected group exhibitions, film screenings & events (c = catalogue)
2019    AMPERSAND FOUNDATION 21 YEAR EXHIBITION, University of Johannesburg Art Gallery, Johannesburg, South Africa
2019    DIGITAL AFRICA, Casablanca Biennale Project Space organised by Gallery GVCC, Casablanca, Morocco
2018    JACK GINSBERG CENTRE FOR BOOK ARTS OPENING EXHIBITION, Wits Art Museum, Johannesburg, South Africa
2018    MATERIAL GAINS: CONTEMPORARY ART FROM THE SPIER COLLECTION, Stellenbosch University Museum, Western Cape, South Africa
2018    HISTORIC, MODERN AND CONTEMPORARY ART, Aspire Art Auctions, Johannesburg, South Africa (c)
2018    ASPIRE ART AUCTIONS: HISTORIC, MODERN AND CONTEMPORARY ART, Johannesburg, South Africa (c)
2018    CONTEMPORARY ART, Strauss & Co, Cape Town, South Africa (c)
2018    I AM BECAUSE YOU ARE: A SEARCH FOR UBUNTU WITH PERMISSION TO DREAM, Standard Bank Gallery, Johannesburg, South Africa (c)
2017    RETHINKING KAKOTOPIA, University of Johannesburg Art Gallery, Johannesburg, South Africa
2017    BOOKNESSES: ARTISTS' BOOKS FROM THE JACK GINSBERG COLLECTION, University of Johannesburg Art Gallery, Johannesburg, South Africa (c)
2017    THE ART OF READING FROM WILLIAM KENTRIDGE TO WIKIPEDIA, Meermanno Museum, House of the Book, The Hague, The Netherlands (c)
2016    IN PLAIN SIGHT: SOCIAL LIFE IN SOUTH AFRICA AND ROMANIA BEFORE AND AFTER 1989, ApARTe Gallery of George Enescu University of Arts, Iasi, Romania (p)
2016    INTERNATIONAL PRINTMAKING ALLIANCE EXHIBITION, Taimiao Art Gallery, Imperial Ancestral Temple, Beijing, China (c)
2016    RITES OF PASSAGE: BETWEEN LIGHT AND SHADOW, Irma Stern Museum, Cape Town, South Africa (c)
2015    BETWEEN DEMOCRACIES 1989 – 2014: MEMORY AND COMMEMORATION, (touring) Constitution Hill, Johannesburg, South Africa, Dom umenia/kunsthalle, Bratislava, Slovakia (c)
2015    BATTLEGROUND, Standard Bank Gallery, Albany History Museum, National Arts Festival, Grahamstown, South Africa (c)
2015    REPRESENTATIONS OF OTHERNESS AND RESISTANCE, Johannes Stegmann Art Gallery, University of the Free State, Bloemfontein, South Africa (c)
2015    PERMANENT WAR: THE AGE OF GLOBAL CONFLICT, Barbara and Steven Grossman Gallery & Mrs. E. Ross Anderson Auditorium, The School of the Museum of Fine Arts, Boston, Massachusetts, USA (c)
2015    TWENTY: CONTEMPORARY ART FROM SOUTH AFRICA, (touring) Turchin Center for the Visual Arts, Appalachian State University, North Carolina, USA, Pretoria Art Museum, Gauteng, South Africa, FADA Gallery, University of Johannesburg, South Africa
2014    DOING HAIR: ART AND HAIR IN AFRICA, Wits Art Museum, Johannesburg, South Africa (c)
2014    WALDSEE 1944, 2B Gallery, Budapest, Hungary (c)
2014    MY JOBURG, Staatliche Kunstammulungen, Dresden, Germany (c)
2013    FRANCE SOUTH AFRICA SEASONS Le Cube, Issy-Les-Moulineaux, Paris, France (c)
2013    WEERBERIG – WEATHER REPORT, Aardklop National Arts Festival, Potchefstroom, South Africa
2013    MY JOBURG, La Maison Rouge, Fondation Antoine de Galbert, Paris, France (c)
2013    LES ÉCRANS DE LA LIBERTÉ: DIGITAL ANTHROPOLOGY FESTIVAL, Le Cube, Issy-Les- Moulineaux, Paris, France
2013    AT HOME WITH THE LUDSKIS: MIDNIGHT MASS (EDITION #7), 10th LONDON SHORT FILM FESTIVAL, Rio Cinema, London, UK
2012    NOT MY WAR, Michaelis Galleries, University of Cape Town, South Africa (c)
2012    DAK'ART: 10th BIENNALE OF CONTEMPORARY AFRICAN ART, Dakar, Senegal (c)
2011    9th IN THE PALACE INTERNATIONAL SHORT FILM FESTIVAL, Balchik, Bulgaria (c)
2010   7th SEDICICORTO INTERNATIONAL FILM FESTIVAL, Forlì, Italy (c)
2010   BLACK BOX, Smart Museum of Art, The University of Chicago, Illinois, USA
2010   VIDEOGUD/VIDEOKÖNST, Gävleborg, Uppsala & Dalarna, Sweden (c)
2010   5th SARDINIA FILM FESTIVAL, Sassari, Sardinia, Italy (c)
2010   19th SÉQUENCE COURT-MÉTRAGE INTERNATIONAL FILM FESTIVAL, Toulouse, France (c)
2010   39th INTERNATIONAL FILM FESTIVAL ROTTERDAM, Rotterdam, The Netherlands (c)
2009   4th AFRICA-IN-MOTION INTERNATIONAL FILM FESTIVAL, Edinburgh International Film Festival, Filmhouse Cinema, Edinburgh, UK (c)
2009   ON MAKING: INTEGRATING APPROACHES TO PRACTICE-LED RESEARCH IN ART AND DESIGN, University of Johannesburg, South Africa (c)
2009   12th ANTIMATTER INTERNATIONAL FILM FESTIVAL, Open Space Arts Centre, Victoria, Canada (c)
2009   ADDING SUBTRACTIONS, Fordsburg Artists' Studios, Johannesburg, South Africa
2009   DESIGN INDABA EXPO FILM FESTIVAL, Cape Town International Convention Centre, South Africa (c)
2006   NAVIGATING THE BOOKSCAPE, ARTISTS BOOKS AND THE DIGITAL INTERFACE, (touring) Aardklop National Arts Festival, Potchefstroom, FADA Gallery, University of Johannesburg, South Africa (c)
2004    WALDSEE 1944, (touring) Collegium Hungaricum, Berlin, Germany; 2B Galleria, Budapest, Hungary; Hebrew Union College Museum, New York, USA; Florida Holocaust Museum, USA; Hibel Museum, FAU-Jupiter, Florida, USA; Ben Uri Gallery, London, UK; Alper JCC, Miami, Florida, USA (c)
2003    THE AMPERSAND FOUNDATION (2nd exhibition), Warren Siebrits Modern and Contemporary, Johannesburg, South Africa (c)
2002    THE SASOL WAX IN ART COMPETITION, Sasolburg, South Africa (c) 2001 BAG FACTORY SHOW, Goodman Gallery, Johannesburg, South Africa 2000 AFTER NEW YORK, Civic Gallery, Johannesburg, South Africa
1999    POSTCARDS FROM SOUTH AFRICA, Axis Gallery, New York, USA 1998 SOUTH AFRICAN PRINTMAKING, Stockholm, Sweden (c)
1997    BAG FACTORY GROUP EXHIBITION, Mexican Embassy, Pretoria, South Africa
1996    ARTISTS' BOOKS IN THE GINSBERG COLLECTION, Johannesburg Art Gallery, South Africa
1995    THE FIRST FOUR YEARS, Civic Gallery, Johannesburg, South Africa
1994    OPEN BITE – A NEW LOOK AT INTAGLIO PRINTMAKING, Civic Gallery, Johannesburg, South Africa
Read More