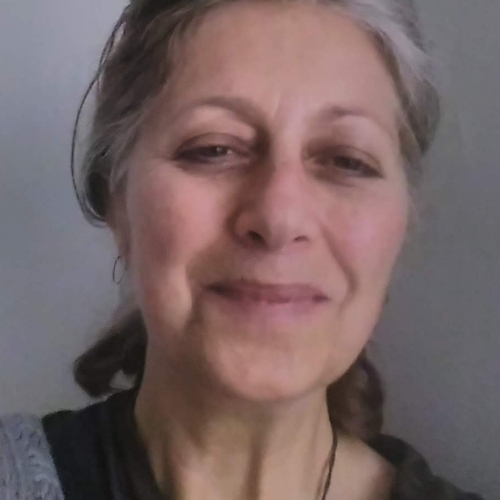 Bonita Alice is a contemporary South African artist who works in both two and three dimensions. The focus of her practice is the – historically, almost consistently destructive – way we relate to other animals and the natural world more broadly. She is concerned in particular with how our behaviour within that relationship reflects our own complex, often unhealthy, interior workings. For Alice, as for many others, the protection of other animal species and of the earth's ecosystems is a matter of social justice. She regards our exploitation and ill treatment of the natural world as reflecting the abuse of unequal power within the human realm.
Born in Johannesburg in 1962, she received her BAFA from the University of the Witwatersrand in 1984 and her MFA in Sculpture from Michaelis School of Art, at the University of Cape Town, in 1990. She lectured in Sculpture for a number of years before returning to full-time studio practice in 2004.
As a sculptor she works primarily as a carver of wood, having trained at Wits under the late sculptor, Peter Schütz. After living for 13 years in London she is back in South Africa, based in Cape Town where she is working on new series in both carved wood and woollen dust on paper, a medium she developed in the early 2000's, and which she regards as an extension of her sculptural practice. The dust medium suggests something fragile, impermanent and unclear; and also a kind of softening or cushioning, "for those who need gentle handling, or protection from difficult truths". Her images often tend toward the decorative, influenced by historical Japanese, Chinese and Indian prints and paintings, in which even the harshest or most violent subjects are rendered in a delicate and carefully composed manner. "The combination of the violent and the decorative heightens the pain." She is also known for a series of large scale temporary land installations using anamorphic perspective which addressed the idea, still evident throughout her practice, of the transience of all things.
Her work is included in numerous private and public collections, including the Johannesburg Art Gallery, South African Reserve Bank, Standard Bank, Durban Art Museum, UNISA Art Museum, Wits Art Museum and the SABC. Her solo exhibitions include Strangers Of Commanding Aspect, 2015, Beast In A dangerous Landscape, 2013, and Beast At Home, 2010, all at AOP, Johannesburg, and Promised Land, an exhibition of sculptural installations which was exhibited at 3 venues around South Africa in 2005. Her group exhibitions include Against Interpretation, Everard Read Gallery London, 2020, the Jerwood Drawing Prize traveling exhibition, UK, 2014, the 25 th Sao Paulo Bienal, A.R.E.A. – Contemporary South African Art, Reykjavik, Iceland, 2000, Urban Futures, Museum Africa, Johannesburg, 1999 and !Xoe Site-Specific, Nieu-Bethesda, South Africa 1997. She currently exhibits with Everard Read Gallery in London and Cape Town.
Read More