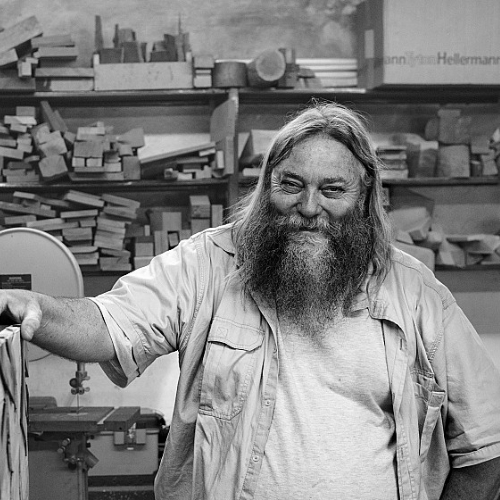 Willem Boshoff is one of South Africa's foremost contemporary artists and regularly exhibits nationally and internationally.
Boshoff spent his childhood in Vanderbijlpark, which is a town located next to the Vaal River, located approximately seventy five kilometers south of Johannesburg. His father, Martiens, was a carpenter which allowed him to develop a love for working with wood. This had a large influence on his current technical expertise. Boshoff is known primarily for his conceptual installations.
Boshoff's academic career stretches beyond a span of twenty years. He trained as a teacher at the Johannesburg College of Art before pursuing a diploma in fine art, with an emphasis on printmaking, in 1980. He received a master's degree in sculpture from Technikon Witwatersrand in 1984. He made study trips to Austria and Germany in 1982, as well as to England, Wales, and Scotland in 1993. He received an honorary doctorate from the University of Johannesburg in 2008. His installations are frequently based on the exploration of language and are created in materials ranging from stone to paper to sand.
Read More
There are currently no artworks by this artist available on Latitudes. Please contact info@latitudes.online if you would like us to source works.