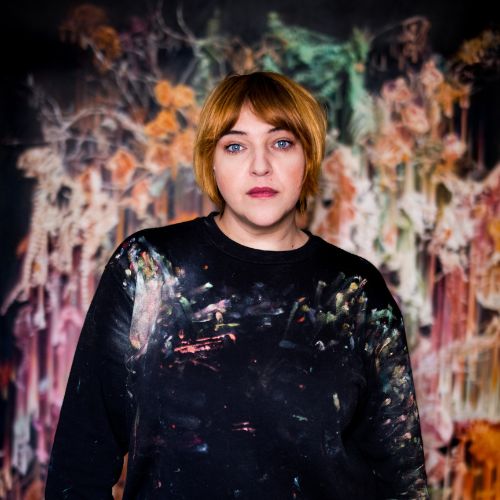 Ronél de Jager was born in Johannesburg, South Africa (1985) where she currently lives and works. An award-winning multidisciplinary artist, De Jager moves between painting, sculpture and installation. Her work shifts between concepts of time, environmental concerns and personal narratives as microcosms of broader social issues.

Through an abiding interest in translating photographic and video imagery into ambiguous, suggestive paint marks, De Jager explores liminal states. In her work, transience is the constant, change is the leitmotif, both conceptually and formally. Her works demonstrate the continuous transformation to which every form is subjected and reflect on the eternal process of becoming and of passing away. The through-line is that this change, this mutability renders moments, memories and sensations in a permanent state of flux, forever slipping away. The act of painting the ineffable is a process of trying to understand that which resists understanding. It is in this fertile ground that De Jager's work exists.

De Jager presented her latest solo exhibition, 'Still Here' at Kalashnikovv Gallery in Braamfontein Johannesburg in June 2022; the show delved deeper into ideas that the artist had been mulling over during Covid-19 and the lockdowns: gender roles, our position as subjects in the digital age, and limits of emotional range in the flattening reality of social media. The work on the show took as its central image the bouquet, enlarged and isolated on each canvas. However, the rendering of these floral arrangements is anything but traditional. As Ashraf Jamal wrote, "De Jager's blurred, filigreed canvases evoke the ornamental, then erase it […]To my mind, it suggests an artwork that is more impressionistic than realistic, the art of someone drawn to miasmas – visualised worlds that quake and tremble in the face of certainty."

Represented by Kalashnikovv Gallery since 2022; Art Fairs includes Cape Town Art Fair 2022, Turbine Art Fair (2021 and 2022) and more recently a special focus on her work at the FNB Art Joburg in 2022.

Selected group show participations includes: Reshape Future Art Histories (2022) presented by Latitudes Online; Thread(ed) Interlacing Womxn in the 21 st  Century (2021) curated by Adéle Adendorff and Georgia Glass; Winter Group Show presented by Kalashnikovv Gallery (2021); Verf/Paint curated by Johan Myburg (2021); In Conversation with Colour Symphony hosted by Rupert Museum (2021); The Pandemic Project, an interdisciplinary project hosted by the University of Johannesburg (2020); Lost and Found hosted by Bag factory Artist's Studios (2019) and New Romantics curated by Mary Corrigall and hosted by Barnard Gallery in Cape Town (2018). In January 2020, De Jager concluded a four-month residency at Bag Factory Artist's Studios in Newtown, Johannesburg.

Additionally, collaborative projects includes a glass beaded work 'All that Glitters... is Glass' (2022) in collaboration with Cape Town based 'Qaqambile Bead Studio'. In 2019 she has collaborated with Eswatini based 'Ngwenya Glass' on her 'Citizen of Glass' sculpture project. Collective project exhibitions include 'MYOPIA' and 'Sacred & Profane', both in 2017. Prior to this she has been a regular finalist in National Art Competitions; ABSA L'Atelier (2008, 2013 and 2015), Sasol New Signatures (in 2008, 2010 and 2014) and the Thami Mnyele Fine Arts Awards (in 2011 to 2016). De Jager is also a recipient of the MTN Foundation Award (2003). De Jager's exhibition 'Broeigrond: Fertile Ground for Golden Regrets' secured her the 2017 KKNK Kanna Award which saw her work foray into the 3-dimensional and have moved her practice into creating environments for her work. This installation was acquired by the Hollard Art Collection (2017) and permanently installed at The Pines in Parktown, Johannesburg. Further installations of her 'Citizen of Glass' sculpture series have been commissioned by First Rand Limited, (housed at Merchant Place, Sandton). She has also completed commissions for Nando's UK and Edgars & VMLYR in 2020.

Her works are included in a significant number of public and private collections, locally and abroad, including ABSA, First Rand Limited, Hollard SA & Australia, Rand Merchant Rank, Sasol, Telkom, Spier Arts Trust, Nando's International and the permanent collection of the South African National Library.
Read More