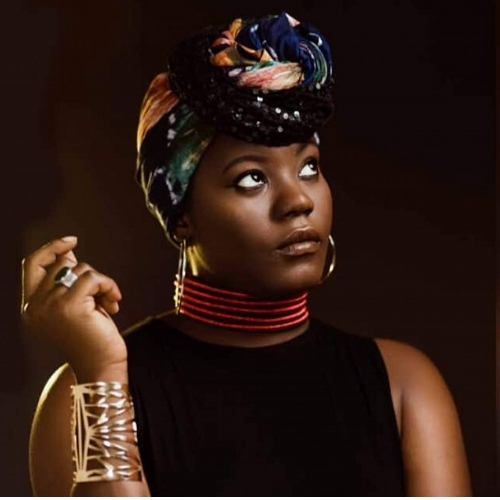 Chinwe Chigbu (b.1994) is a fast-rising contemporary visual artist from Nigeria. She uses the mediums of photography and performance art, experimenting with various print methods to realise her work and ideas conceptually. Chigbu's works are conceptual as she explores identity politics, the black female body, contemporary society and culture.
Creating from depth of emotions, she uses her body as an artistic material and everyday material objects to portray ideas, realities and illusions. Influenced by memories and nostalgia, she experiments with movement, light, shadows, contrast, lines, texture. Chinwe creates from a place of empathy and love while advocating for humanity, human rights, humanization, liberation of the black community especially black women and intersectional groups in contemporary society/culture through art.
Dismissing socio-cultural limitations and rewriting her version of truth, she crafts with recognizable elements, an unprecedented situation in which the viewer is confronted with the conditioning of their own perception and compelled to reconsider stances of what has been known to be, what is and could be. With a subtle pseudo-minimalist style of approach; she touches a range of subjects corporeally in multi-layered ways.
These meticulously planned pieces resonate with images culled from the boundless sphere of imagination. By applying sizable sprinkles of abstraction in her work, the results are deconstructed to the extent that meaning is shifted and interpretation, multifaceted, bordering back and forth across the lines of reality and illusion. Chinwe draws her inspiration from nature, history, popular culture, society and spaces (environment).
In her works, she integrates art as a strong medium, challenging preconceived notions and discussing pressing themes in contemporary society. Chigbu's work celebrates individuality, humanism, womanism, black race, and culture.
Read More