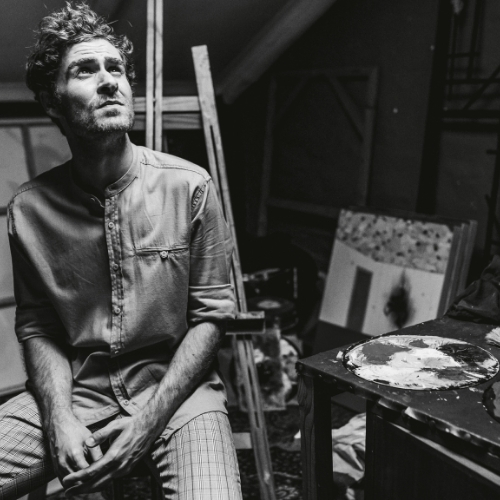 Brendon Erasmus is an artist and musician living and working in Pretoria. Erasmus is primarily a mixed-media painter working in abstraction, abstract-figuration and portraiture, including sculpture, installation, performance and video.
Since graduating with a BTech (FA) in 2010, Brendon has exhibited extensively and held two solo shows with No End Contemporary JHB, in 2017 and 2018. When he is not painting, Brendon writes, records, and performs with his co-writer and wife in The Great Yawn. Together they also run KHAKOON, an alternative platform to explore other avenues in the visual and decorative arts, including painting, ceramics and textiles.
"I am interested in painting as a mode of expression that transcends its spatial limitations. My preoccupation lies not with the formal qualities of the picture plane, despite the compulsive need to transfigure the painting medium. The most intriguing aspect for me is the relationship between the viewer and the work, and the challenge of confronting the viewer with an intuitive need for alternative modes of experience. As a painter, I respond suspiciously to notions of change, censorship, the sacred, and the ailing human condition."
Read More