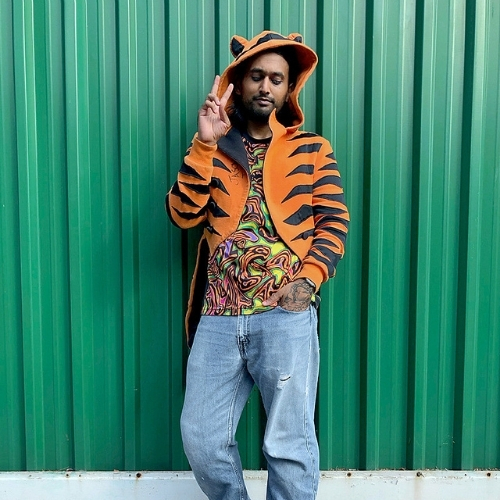 Born in Durban in 1991, Callan Grecia holds a Master of Fine Art degree in painting from Rhodes University (2017). As a young man actively engaged in music, fashion and photography, Grecia discovered in painting a way to explore new modes of expression. He credits his early experiences in hip hop and fashion with unlocking an experimental, almost playful approach to painting. The result is an energetic portfolio of work that has evolved organically with the artist's taste in music and fashion.
Grecia aims, through his making, to pause and critically examine his own experiences of western notions of academy and art produced in this context. He describes it as a process of unlearning and finding new ways of relearning aspects of western practice to facilitate new critical dialogues. Grecia offers a view of a complex young democracy, commenting with new sincerity on a nation seemingly obsessed with consumerism, rainbownationism, as well as his lived experience being a person of colour in post-apartheid South Africa.
Grecia's current body of work is a deliberation on the history of art, the academy and time. The notion that humankind constantly buffers the past, the present, and also acts towards the future, present a challenge to create images that reinforce or transcend the construct of time. Grecia is drawn to how the image can be entered into at different times, transcending the time buffer while remaining constant.
With this shift in thinking has come a parallel shift in medium; Grecia finds himself currently exploring a multimedia approach on paper that lends itself to a quicker articulation of his ideas than traditional oil painting on canvas allows. Working with a vast array of mediums on paper; paint, glue, crayon, duct tape and spray paint brings energy and complexity to his narrative.
Since 2014, Grecia has participated in numerous group exhibitions across the country with a highlight being shady tactics at SMAC Gallery in Cape Town, 2018, curated by Thuli Gamedze. In 2020, his work was acquired by the Durban Art Gallery permanent collection.
Exhibitions
Graduate exhibition, "BLACK MIRROR" at The Albany Natural Science Museum, Grahamstown, 2014
Part of the Emerging Painters: "The Graduate Show" Exhibition at the Turbine Art Fair, Johannesburg (Curated by Hentie Van de Merwe) 2015
Part of the Emerging Painters: "Fresh Produce" Exhibition at the Turbine Art Fair, Johannesburg (Curated by Tanya Poole) 2016
Group show "Surface Tension" at GUS, Stellenbosch 2016 Masters Graduate Exhibition, "These Aesthetics Are Not New" at the Rhodes University Somerset Gallery, 2017
Curator and participant of the happening, "STFU at The Gallery", at the Rhodes University Somerset Gallery, 2017
Group show "The Liebricht Flooded" at The Liebricht Gallery, Cape Town, 2018
Group show "046 ed" at Olde 65, Grahamstown, 2018
Group show "shady tactics" at SMAC Gallery,(Curated by Thuli Gamedze) Cape Town 2018
Selected works shown at No Experiment Lab Showroom for Paris Fashion Week Mens SS18, Paris 2018
Group show "Callan Couldn't Make It". At PitsaYaMamepe (Mthubi The Hub), Pretoria 2018
Group show "Afraid So" at 136 Bree Stret, (Curated by Matthew Muir and Marolize Southwood) Cape Town 2018
Group show 'Not Really" at 136 Bree Street, (Curated by Marolize Southwood) Cape Town 2018
Selected works shown at No Experiment Lab Showroom for Paris Fashion Week Mens FW19, Paris 2019
Group show "Outside" at RK Contemporary. Cape Town (Curated by Nabeeha Mohamed) Cape Town 2019
Collaborative capsule collection with Japanese clothing label POLIQUANT, Japan 2019
Group show "Everything's For Sale" at The KZNSA Gallery. Durban (Curated by The KZNSA Exhibition Committee) Durban 2019
Group show "POROMPOMPOMPO" at The Cosmopolitan, Johannesburg (Curated by Jody Brand and Unathi Imkonto) Johannesburg 2019
Group show "Know This Place?" at The KZNSA Gallery. Durban (Curated by The KZNSA Exhibition Committee) Durban 2019
Investec Cape Town Art Fair 2020, represented by KZNSA Gallery
Read More