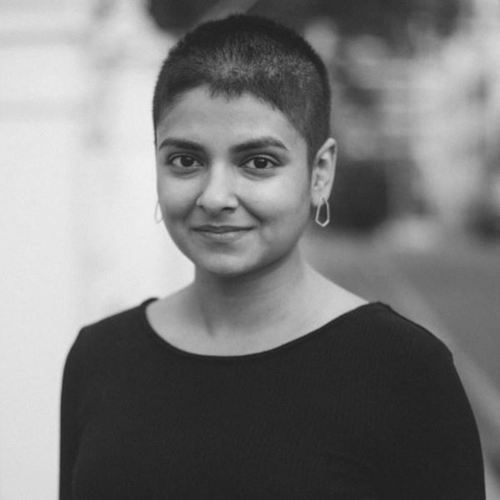 Nindya Bucktowar (b. 1988 Mauritius) graduated with a Bachelor in Architectural Studies at Nelson Mandela University in 2013. She runs her own multidisciplinary design practice and ceramic business. She is the co-founder and co-director of Kalki Ceramics, Studio Kalki, NT Design Studio and Leather Studio. Bucktowar previously lectured at the Architectural Department of the University of KwaZulu-Natal (2019-2021)
At the beginning of 2021 Bucktowar was selected for the RMB Talent Unlocked programme in association with Everard Read and Strauss & co, where she exhibited her work at Circa Gallery in Johannesburg. Following this her work was acquired by FirstRand art collection.
Bucktowar held her first solo exhibition at the KZNSA Gallery in August 2021. She has also exhibited on notable group shows, including Bordeaux Art and Design (France), Galerie Revel (Paris), SCENORAMA KZN (Project by Gabi Ngcobo & JAVETT UP), CloutSA (CT), Spier Arts Academy (CT), Union House (CT), Spier Wine Farm (CT), Always Welcome (CT), Nirox (JHB), the Melrose Gallery (JHB), Ceramics Southern Africa (CT & JHB), Kim Sacks Gallery (JHB), KZNSA Gallery (KZN), Tamasa Gallery (KZN), African Art Centre (KZN), Tatham Art Gallery (PMB), 100% Design SA (Decorex) and Latitudes Art Fair 2023 (JHB)(KZNSA gallery).
She has undertaken various collaborative projects with Nando's, CloutSA, Mr Price Home (Artist COLAB), Redbull, Durban Art Gallery, internationally acclaimed interior designers and South African Network Cities.
She attended artist residencies at Imiso Ceramics (CT)(March-May 2022) and Hillford Pottery (Lindsay Scott). Awards includes Ndebele Premier Award, Ceramic Southern Africa (First Prize), DBR: Design Build Research, 2017 (First Prize)
In December 2022, Nikhil Tricam and Nindya Bucktowar were announced as the winner of Nandos Hot Young Designer competition, led by Clout SA. They are currently working on various national and international art and design project, represented by Tracy Lynch, Clout SA.
Read More