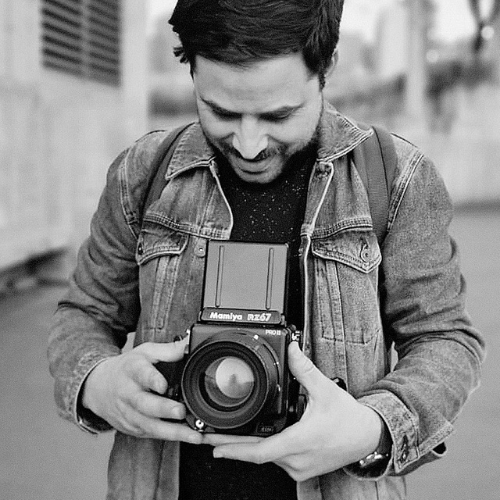 Brett Rubin (b.1982) is a photographer & visual artist based in Johannesburg, South Africa.
Rubin holds a graduate degree in Film, Media & Visual Studies from the University of Cape Town (2005). Working and assisting as a photographer in various industries, he opened a photographic studio in Cape town from 2007 until 2010. He relocated to Johannesburg in the same year and continued to work as an independent photographer mainly in the fashion and design industry. In 2012 Rubin was appointed the official photographer for jazz icon Hugh Masekela until Masekela's passing in 2018. Highlights of this period include photographing the final two Hugh Masekela album covers, directing two music videos (one a tribute to photographer Alf Kumalo); and having a portrait of Masekela included in the Carnegie Hall collection. He continues to consult and work closely with the Hugh Masekela Heritage Foundation.
Rubin specialises in portraiture, utilising various art historical methods and references while refining contemporary perceptions of the medium. His practice is concerned with challenging the conventions of the medium of photography through his use of substrate, form and content. He is interested in the deconstruction of Landscape, the histories that have shaped it and the way the figure traverses it in a post-colonial context.
Over the course of his career as a professional photographer Rubin's work has been exhibited and featured in various capacities, namely, the Design Indaba (2009), Edinburgh International Art and Fashion Festival (2012), Nirox Winter Sculpture Exhibition (2014), NATAAL Africa Utopia Exhibition (Southbank Centre, London (2016), The Villa Show, Johannesburg curated by Jonathan Freemantle (2018). In 2019 Rubin organised an exhibition of portraits of Hugh Masekela in association with Art Joburg art fair and the Hugh Masekela Heritage Foundation, which was held at Circa Gallery in Johannesburg.
Exhibitions
2019 HUGH MASEKELA IN PHOTOGRAPHS, CIRCA GALLERY JOHANNESBURG A solo exhibition of a selection of Hugh Masekela portraits and music videos made by Rubin between 2012 and 2018. This exhibition was held in conjunction with The Hugh Masekela Heritage Foundation and Art Joburg and took place over the Johannesburg Art Fair. Forming part of the Mesh Photography Series, the exhibition ran alongside and in conversation with a retrospective of the recently unearthed archive of Daniel Morolong's photography of daily life from the 1950s. The exhibitions were curated by Musa Nxumalo and Percy Mabandu. Speakers at the VIP Art Joburg event included a panel discussion between curator Percy Mabandu in discussion with Ashraf Jamal and Dr. Konji Sebati who spoke on behalf of the Hugh Masekela Heritage Foundation. At the gala event, Barbara Masekela was the guest speaker of honour. 2018 THE VILLA EXHIBITION, JOHANNESBURGCURATED BY JONATHAN FREEMANTLE A salon wall of various printed works and a single small-scale work (ceramic ink on glass in white Namibian marble base) from the series AUTO PORTRAITS included in a group show curated by Jonathan Freemantle in an abandoned mansion in Hyde Park. 2017 '(DON'T) LOOK BACK' GROUP SHOW GALLERY MOMO CAPE TOWN IN ASSOCIATION WITH NIROX SCULPTURE FOUNDATION One smaller-scale work (ceramic ink on glass in white Namibian marble base) from the series AUTO PORTRAITS included in a group show that showcases some of the Nirox Foundation's sculpture work throughout its history. 2016 PASTORAL ABSTRACTION GROUP SHOW EVERARD READ GALLERY CAPE TOWN one large-scale (ceramic ink on glass in steel base) and one smaller scale work (ceramic ink on glass in white Namibian marble base) from the series AUTO PORTRAITS included in the Pastoral Abstraction winter group show at Everard Read Gallery Cape Town. 2016 'HLABALELA: IT'S A NEW MOURNING NKUSH' GOODMAN GALLERY JOHANNESBURG One seven meter large-scale panoramic wallpaper print by Rubin was included in the group exhibition curated by the celebrated South African band and performance collective The Brother Moves On. 2016 40 ACTORS PORTRAIT EXHIBITION AT THE MARKET THEATRE JOHANNESBURG An exhibition of 40 portraits photographed by Brett Rubin in one week featuring a selection of 40 actors both young and old who have all performed on the stage at the renowned Market Theatre in Newtown, Johannesburg. The exhibition was in celebration of the theatres 40th anniversary. 2016 AFRICA UTOPIA EXHIBITION (SOUTHBANK CENTRE LONDON) Awork from THE BIER SERIES (2009 - ) an ongoing collaboration with Cameron Foden was shown at the Nataal Africa Utopia festival and evening salon exhibition at London's Southbank Centre on the River Thames. This was accompanied with an online feature of the series. "Brett Rubin and Cameron Foden confront the spectre of empire in their evolving visual project shot against South Africa's epic backdrops". 2015 BRONZE, STEEL, STONE GROUP EXHIBITION MOUNT NELSON HOTEL CAPE TOWN one outdoor large-scale work installed in the garden of the Belmont Mount Nelson Hotel as part of a group exhibition showcasing South African contemporary sculpture, curated by Everard Read Gallery, Cape Town. 2015 HAZARD GALLERY GROUP SHOW three maquettes (ceramic ink on glass) and one di- bond print from the series AUTO PORTRAITS at the inaugural group show at Hazard Gallery in the Maboneng precinct in Johannesburg. 2014 NIROX SCULPTURE FOUNDATION WINTER EXHIBITION two outdoor large-scale works and several maquette works (ceramic ink on glass) from the AUTO PORTRAITS series at the 2014 NIROX Foundation Winter Sculpture Exhibition in the Cradle of Humankind, Johannesburg. (This was the firt time works from the AUTO PORTRAITS series was exhibited. Both large works were acquired for a private collection). 2012 SKIN PORTRAITS / EDINBURGH INTERNATIONAL ART & FASHION FESTIVAL a series of abstract portraits that accompany a renowned perfumer's interpretation of nine iconic South African's personal scents based upon cultural heritage.
Read More
Brett Rubin

Stimela

As low as

R 33,000.00

ex. vat

Brett Rubin

Soul Rebel

As low as

R 33,000.00

ex. vat

Brett Rubin

In an Age

As low as

R 33,000.00

ex. vat

Brett Rubin

Ashiko

As low as

R 33,000.00

ex. vat

Brett Rubin

Exile

As low as

R 33,000.00

ex. vat