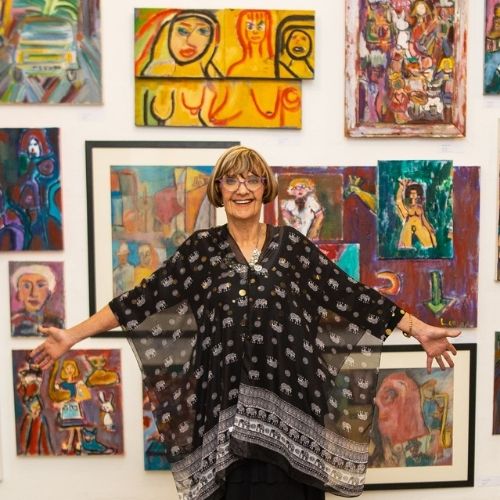 Lorraine Marcus is a South African Fine Artist who has been producing work prolifically for over 30 years. Her work is expressionist in style and her abstract, figurative practice is pure and refined. Marcus is known for her emotionally deep yet whimsical artworks that express her vivid interpretation of the world as she experiences it - with a poignant acknowledgement of sadness expressed through humour and absurdity - brought together in a catalogue of multi- textured artworks that both prompt and stimulate discussion.  
Marcus's work embodies a commitment to delivering art that is true to her stories, experiences and world-view. Having had a long-term interest in art, Marcus has cultivated her artistic practice under the mentorship of South Africa's leading art teachers and artists including Lynda Ballen and Phillipa Kotzen. She spent her formative years working with Gail Mechanic and has since spent many years since painting and developing her style. She is currently working closely with Ricky Burnett. Lorraine's portfolio consists of vibrant Pastel works, while her current focus is oil on canvas with some mixed media and collage. 
Marcus has presented her work in a number of group exhibitions, and a collection of her curated work is currently on display at Life on Iris, as a part of the Light and Knight collection.
Marcus is a woman, a mother, a wife and a widow. She understands that women have a lot to say, and feels a need to embrace this. As such, she shares her experiences through her art. The images depicted are predominantly personal and sometimes abstractly imagined. Her experience of loss has shaped the ideas that she portrays in her art. The expressionist and abstract style of her work presents a rich exploration of texture, as she reveals her experience of colours and movement. Marcus' portraiture seeks to convey the expressiveness of a face, through its form and character, gestures, movements and emotions. By painting abstractly, she highlights the 'realness' of human experiences and feelings.
Some of the themes she has explored in her work include family and maternity, popular culture, and the spaces she has navigated during her travels locally and abroad. Marcus has been significantly influenced by her travels in South Africa, Zimbabwe, Europe, Indonesia and Australia. She found that each of these spaces held their own charm, which evoked emotions in her that she felt driven to share through her art.
Read More