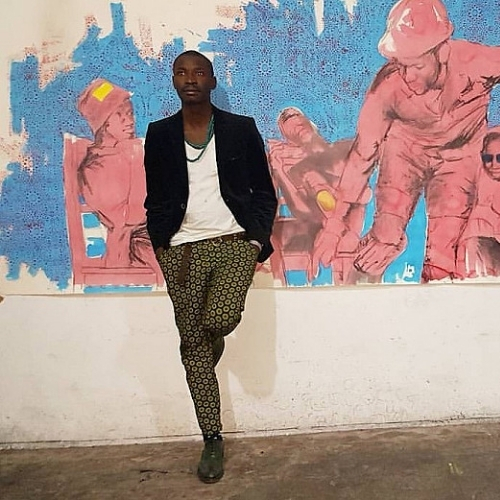 Bambo Sibiya was born in KwaThema, Springs, near Johannesburg. He trained and worked at the Artist Proof Studio (APS) Gallery, where he has also worked on large scale linocuts for several leading artists, including William Kentridge, Diane Victor, Norman Catherine and Colbert Mashile.
Rich stylistic detail and textures mark Sibiya's linocuts, drypoint and lithographic works, which give insight into masculine identity and community on the streets of Johannesburg. In South Africa during apartheid, men from the rural areas journeyed to the cities in search of work. Hoping to impress the families they left behind, the men would often buy stylish new suits for their visits back home, and practice looking slick for their friends and neighbours. From this "the Swenkas" evolved and working-class South Africans would meet on a regular basis for competitions in which they would see who could put together the best-looking outfit, and who knew how to move best in it. The men follow certain set values, such as physical cleanliness, sobriety and above all self-respect.
He has performed extremely well in South African art competitions in recent years: in 2012 he was a finalist in the ABSA L'Atelier top ten awards, and the winner of the prestigious Gerard Sekoto Award, which facilitated his completion of two residencies in 2013: at Atelier le Grand Village (Angouleme, France), and at Cité Internationale des Arts (Paris, France).
Bambo's works are held in the Bibliothèque Nationale de France (the national collection of prints), amongst others.
Select Exhibitions
2018  'Izikhali ze Mpilo': Solo Exhibition, Jack Bell Gallery, London
2018   'Rassemblement, Jack Bell Gallery, London
2018  1:54 Art Fair, Jack Bell Gallery, London
2018  1:54 Art Fair, Jack Bell Gallery, New York
2017  'Ubuntu Ngabantu': Solo Exhibition, Jack Bell Gallery, London
2017  'Tales of Migration': Solo Exhibition, Red Room Gallery, Cape Town
2017  1:54 Art Fair, Jack Bell Gallery, London
2017: 10th Print Triennial, Chamalières, France
2016: Douro Print Biennial, Portugal
2016  Art Exchange: Querètaro, Galeria Municipal and Taller Tamayo, Oaxaca, Mexico
2015: 7th International Lithographic Symposium, Tidaholm, Sweden
2013  'Khumbula Ekhaya (Home Sick)', Gallery 2, Johannesburg
2013  'Human Spirit', ABSA Art Gallery, Johannesburg
Read More