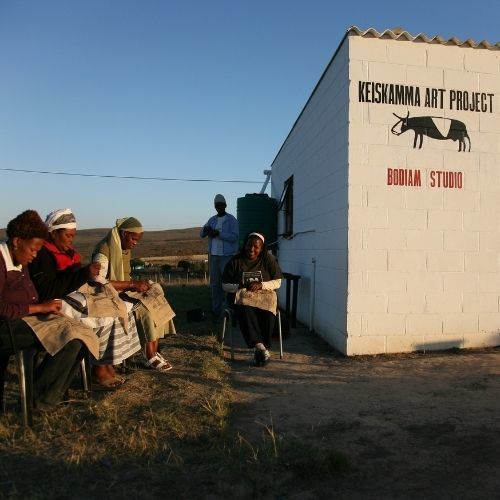 Founded in 2000, the Keiskamma Art Project in Hamburg, Eastern Cape, produces major textile artworks, all of which aid in the archiving of the Eastern Cape rural collective memory and preservation of oral history. The Project has won numerous awards, including the Business and Arts South Africa (BASA) Award and the Chairman's Premier Award (2011), which recognises sustained and extraordinary commitment to the arts in South Africa.

Marking twenty years since the launch of the Keiskamma Art Project, Umaf' evuka, nje ngenyanga / Dying and Rising as the Moon Does, a retrospective exhibition at Constitution Hill, Johannesburg, aims to bring together iconic pieces into one immersive experience. An inquiry, through embroidery and storytelling, into the fabric of society, the meaning of humanity and the stark realities of illness, this retrospective brings into view the conversations of a community using art as a medium of expression and healing.

In 2022 Constitution Hill, a living museum that tells the story of South Africa's journey to democracy, is observing the founding principles of our transformative Constitution. Steeped in history, Constitution Hill is a profoundly symbolic site. Against this backdrop, the Keiskamma artists have made three prototypes towards a beautiful, limited edition tapestry series to raise funds for the retrospective.

In these extraordinary artworks they reveal what they value most about our democracy and what the pillars of our Constitution – EQUALITY, FREEDOM and HUMAN DIGNITY – mean in their daily lives as women from an impoverished area of the Eastern Cape. The finished artworks, richly coloured, intricate and thought-provoking, make up a symbolic narrative of possibility for a resilient community. Individually, the tapestries represent an intimate expression of personal hopes and dreams, manifested stitch by stitch.
Read More