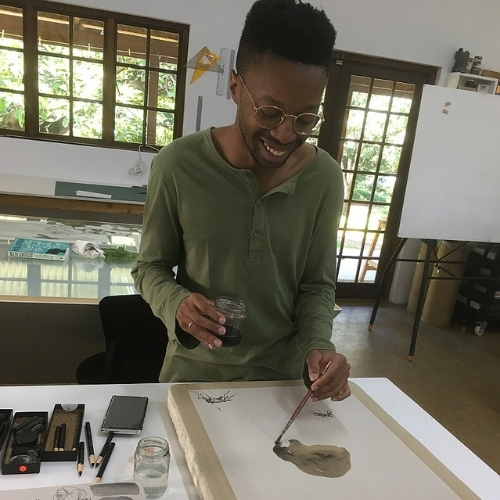 Banele Khoza was born Eswatini and is a South African-based visual artist. He holds a BTech in Fine Arts from Tshwane University of Technology, Pretoria. He started his studies at the London International School of Fashion in Johannesburg but soon realised his passion was drawing and transferred to study Fine Arts. On completion of his degree, he taught Drawing as well as Art Theory at the University of Technology, Pretoria. In 2018 he decided to stop teaching to work as a full-time artist and to launch a multi-purpose studio and gallery called BKhz in Johannesburg.
Banele Khoza has had a solo show at Zeitz MOCAA, has the 2017 Gerard Sekoto Foundation award under his belt and a fleet of taxi's covered in his work (as the result of him winning the SA Taxi Foundation Art Award). In 2019 he was named as one of the Mail and Guardian's 200 Young South Africans.
Khoza's lithographs, demonstrate his skill and dexterity. Khoza's ability to embrace the unknown and to immerse himself in the technical possibilities of what lithography has to offer combined with the skills of Master Printer Mark Attwood have resulted in prints that reveal the artist's gifts.
In 2017 he won the prestigious Gerard Sekoto Award and with it a three-month residency at the CitéInternationale des Arts in Paris. His solo exhibitions include Temporary Feelings at the Pretoria Art Museum (2016); Lonely Nights at Lizamore Gallery (2017) LOVE? at Smith Studio in Cape Town (2018). Khoza also headlined the solo exhibition titled LGBTQI+: Banele Khoza as part of the Curatorial Lab at Zeitz MOCAA (2018).
In 2018 he curated A Letter to my 22 Year Old Self, a group show presented to launch his fundraising activities which will give grants to art students dealing with economic hardship at SA universities. In 2019 Khoza opened Seeking Love; a museum touring show around South Africa and has been awarded the M&G 200 Young South Africans.
Khoza is also the co-curator with Nicole Siegenthaler of Art Joburg: Gallery Lab.
Read More
There are currently no artworks by this artist available on Latitudes. Please contact info@latitudes.online if you would like us to source works.