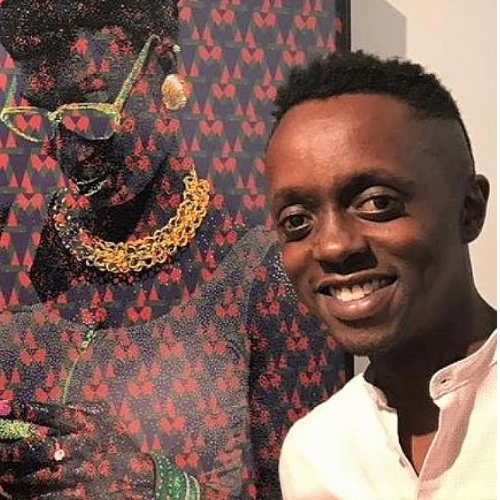 Born in Nairobi in 1979 - and after obtaining his Bachelor of Arts degree in 1997 - Evans Mbugua decided to continue his studies in France, a surprising destination for a student from an English-speaking African country. After graduating from the University of Toulouse, he enrolled at the l'École Supérieure d'Art des Pyrénées (Upper School of Art of the Pyrenees) and obtained a graphic design degree in 2005.
It is his colorful universe, full of energy and the joy of living, that he shares with everyone who knows how to appreciate his work and there are many! Very carefully created backgrounds bring to mind the artist's design activity, reproducing the regular motifs of the multicolored fabrics that we find all over Africa. Even footprints are cleverly fused into the plot while at the same time evoking the march and above all the dance.
He detaches, through the use of pointillism, great moving characters that invade the canvas and give it a vitality that contrasts vigorously with the very neutral and uniform, though colorful background. The contrast of vivid colors that, in their antagonistic treatment (linear traces against pointillism, the reproduction of similar motifs against moving characters…), wonderfully animates the work. The techniques in these paintings link painting on plexiglass with digital printing on paper.
This painting is fresh, showing a dynamic Africa in motion, a positive Africa that immediately provokes the desire to love it! For the artist, dance is a universal language. It allows the transmission of expressions of joy, peace, excitement, tension, weight, space, rhythm, flexibility… However, the artist shows several riddles into the work of which he alone possesses the exact answer. While we can venture explanations, they will not necessarily match his. But isn't it the role of the "observer" to appropriate the work and make it say what they want it to say or understand? Why do the models wear dark glasses? Through the use of this artifice we are left to consider what dark secret lies behind. Why does the artist try to remove the particular identities of the models? Is it to show that these portraits are not what immortalize youth, in all its forms, regardless of if they are two specifically identified models. There are certain messages, beyond the aesthetic beauty that hook us immediately, that go further and that we have to learn to decipher, because obviously it is not just a combination of technical skills, that of the dancers and the artist that represents them.
The dancers are black, true, but they are contemporary and "globalized," as evidenced by their hairstyles, the costumes and accessories that they wear, and there is nothing to attribute them to a nationality, an ethnic group, a country, all these symbols of borders, of isolation and conflict. They represent Africa as a whole and its transcendent unity. In contrast to the clichés in use, it's an energetic Africa, not that of the postcards of dancers in their straw rags and ornaments from another era, but a modern, carefree and complete Africa. Evans Mbugua makes us want to be happy and optimistic about this continent that we most often represent more in its dramatic turmoil and its deadly contortions, neither of which should be denied. He brings us hope and joy of life and deserves our recognition as such!
While at the same time starting a professional career as an art director in a communications agency in Toulouse, MBUGUA continued to explore the field of visual arts in his personal studio. In 2011 he decided to go to Paris, where he has since devoted all of his time to artistic exploration and design. Mbugua has exhibited his work in prestigious institutions and events all over the world. His work has been shown in Europe, the United States and in his home continent, from Morocco to the South African Republic. He has participated in many contemporary art fairs, including some of the most famous fairs dedicated to contemporary African art (principally 1.54 London and Paris by AKAA).
Additionally, some of his works have been sold in specialized sales of large auction houses in Paris and elsewhere. Now, Evans Mbugua is reaching his maturity and his work has gained in confidence, as clearly demonstrated in the most recent evolution of his work. The series dedicated to body talk presented here perfectly summarizes his concerns revolving around human beings, be they man or woman. In great, highly colorful compositions, Evans depicts the encounters, exchanges, identities and ways of being in his interest in understanding human beings and their many facets.
Taken from the written piece by Sylvain Sankalé, Art Critic Dakar, Senegal
Read More