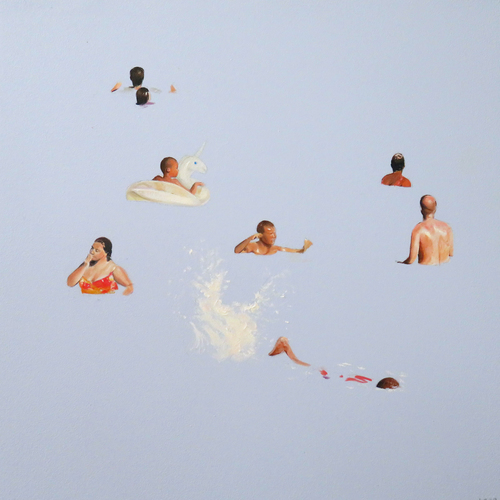 South Africa, 1983
Kirsten Beets paints our contemporary Eden. Her paintings inhabit a place somewhere between the real and imagined, a painted mythology that explores ethical realities. She is continually looking at the shifting relationship between people at leisure and the natural world. She isolates the moments of these interactions; sometimes as immersive images, and at other times as curious objects suspended in the picture plane where a landscape is reduced to flat colour or soft ombres. Snapshots of our curious human interactions with natural environments are all rendered in delicate detail.
Beets revisits certain subject matters which have captured her imagination; and often familiar figures make cameo appearances throughout her work. These characters seem to inhabit a narrative realm within the confines of a canvas where their paths are intertwined and yet, perhaps, they remain strangers to each other. The repetition of these figures embodies the strange familiarity inherent in public spaces, such as the beachfront, where many of the things we use to identify ourselves are stripped away.
Her exhibitions are complex collections of observations and imaginary musings made manifest in oil paint on paper, board, and linen. Her carefully considered compositions tell a subtle story of the strange and the familiar, leisure and decay, stasis and transience.
Read More