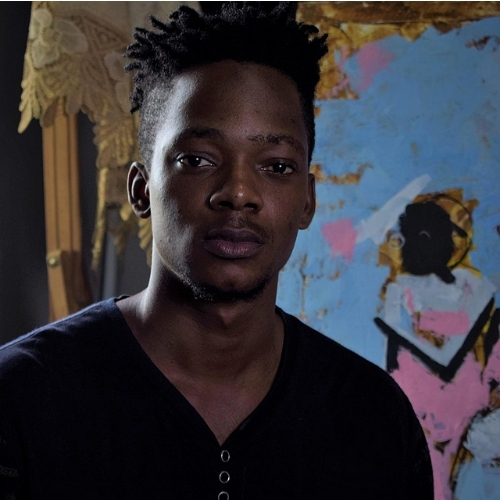 "Painting is like a conversation for me and every stroke prompts a certain type of response and you just go on, trying to balance the whole equation and at the end, a beautiful picture is painted".
Watching Edozie Anedu at work in his studio in Benin City in Nigeria can be quite entertaining, an almost performance art piece in itself. Edozie converses with his canvas as he applies his paint in aggressive strokes taking inspiration from alternative music that plays in the background.
His thoughts and the resultant phrases that come to his mind during this process often find their way into his pieces as rough text that leaves the viewer with a 'lingering' question. 'Asking the right questions could be the first way to discover problems which society is oblivious to'. Edozie's works explore popular culture, focusing on the human condition, societal behaviour and how these have affected him on a personal level. Heavily influenced by Renaissance art and how clothes, jewellery and hair styles represent one's class in society, Edozie's works capture and document fashion and the times in which he lives for future generations.
His style is however more Neo-Expressionistic in nature. Working in oils, acrylics and pastels on canvas his works have a naïve, childlike quality that is at the same time extremely expressive and hard hitting. At times he applies his paint roughly and thickly and at others he uses a smoother application and finish with a strong sense of balance.
He believes that colour is one of the quickest ways to capture the attention of the viewer and he therefore often uses bright, intense colours. His paintings often include human figures that are presented naively as a child may have painted them with expressive features and distortions in terms of scale and perspective. Whilst these tend to give his work a captivating sense of humour or comedy the messaging and imaging is powerful and important.
Edozie has participated in several countries in Africa and internationally and is swiftly developing a strong collectors base. Many are expecting big things from this young talent who continues to build on his reputation.
Read More