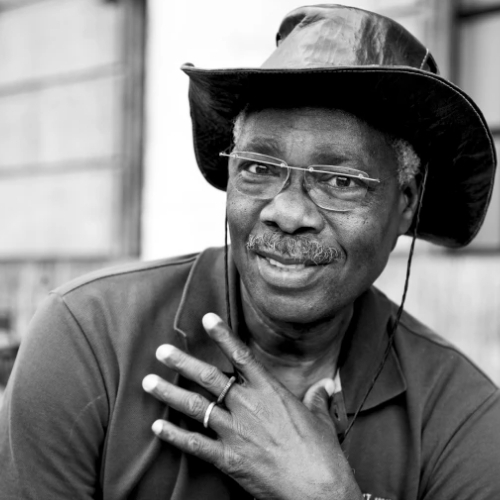 EL Loko´s Cosmic Letters, the universal alphabet from which he has composed large-format works, unite the various philosophies of his spiritual 'cosmos'. Loko´s unique pictorial language is derived from ongoing, intensive contemplation of the traditions of his native Togo and the numerous 'worlds' that have shaped his psyche. Influenced by European Christian theology and tribal legends of African mythology present in the collective memory of Africa, the hybrid nature of Loko's primeval depictions, so-called 'sunbirds', pay homage to his desire for cultural universality.
Loko has been deeply influenced by European artists, most notably his teacher and mentor Joseph Beuys. He has worked in a range of media, from painting, printmaking, and photography to wider explorations in installation, performance, and poetry. "EL Loko's aim is to develop a universal language but without ever losing sight of his own origins. Indeed, since his arrival in Europe, he has at last been able to return, through a gradual process of development, to his own self, to a situation in which he can rediscover his own identity as a traveling and internationally active African artist..." Dr. Ulrich Krempel Director of the Sprengel Museum Hannover
Read More
There are currently no artworks by this artist available on Latitudes. Please contact info@latitudes.online if you would like us to source works.