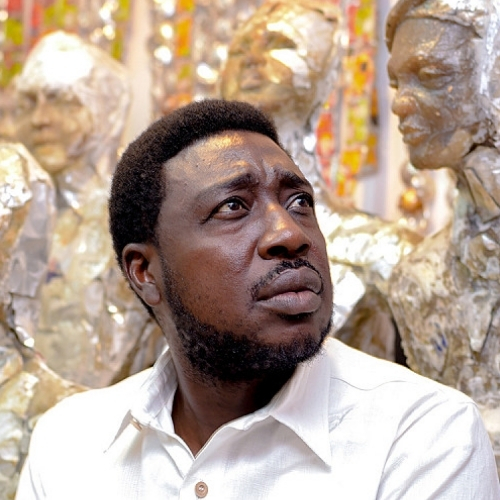 Gerald Chukwuma is a celebrated Nigerian artist with an increasingly international presence and following. His parents were not enthusiastic to see their son follow a creative career, but Chukwuma could not be stopped and managed to finance his livelihood and university fees in order to study Fine Art. He graduated from the prestigious Nsukka Art School, University of Nigeria, with first class degree specialising in painting.
Chukwuma enjoys working on a bigger scale than many other artists, presenting bold statements with his works created from wood and mostly recycled objects.
He bridges the gap from traditional Uli and Nsibidi symbolism to contemporary abstraction with ease, developing his very own visual language and impact.
The combination of infinite creativity with detailed craftsmanship offers an irresistible visual feast.
In 2008 and 2012 he emerged as one of the top 3 winners of the prestigious National Arts Competition, he featured on cable news network, CNN's inside Africa program – showcasing his unique artworks in 2011, in 2014 , the University of Nigeria commissioned him to produce pieces for the Art School. In 2017, he was commissioned to produce a monumental Outdoor piece by the Lagos State government. In 2019, he participated in various international art fairs and presented his first solo show in London.
Chukwuma has taken part in aprox. 20 exhibitions / art fairs in Nigeria, Ghana, Cameroon, France, Denmark, Netherlands, Turkey and the United States. He is blessed with a wonderful wife and three children.
Read More