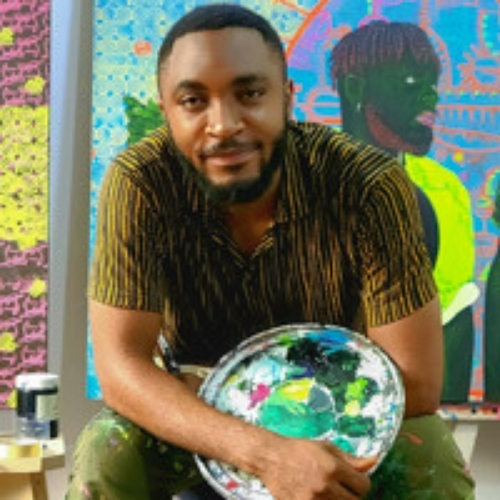 Celebrated for his lively Neo-Pop Art paintings of contemporary African dandies, the Cameroon artist Anjel, who was born Boris Anje in 1993, continues his colorful exploration of fashionable black scenesters in the exhibition "Afro Seduction," his second solo show with OOA Gallery.

Working from hand-picked photos of stylish young men and women, Anjel modifies their outfits by changing the colors and textures, alters the light sources to deepen the shadows and heighten the reflections, and contextualizes his striking black subjects in the realms of global consumerist culture and African symbolism.

"I want to give value to the black body," Anjel declared from his studio in the Cameroon coastal city of Douala. "I'm trying to give some kind of attention, some kind of attraction, to the person of color."

New to Anjel's recent body of work is his use of symbols from the Adinkra alphabet, which is a contemporary way of writing some of the languages spoken in Ghana and Ivory Coast, including Akan, Dagbani, Ewe and Ga. The Adinkra symbols are sometimes utilized in the logo designs of entrepreneurial brands, where the symbols are used to represent sayings, proverbs or concepts, such as wisdom, strength, unity, wealth, love and peace.
Read More