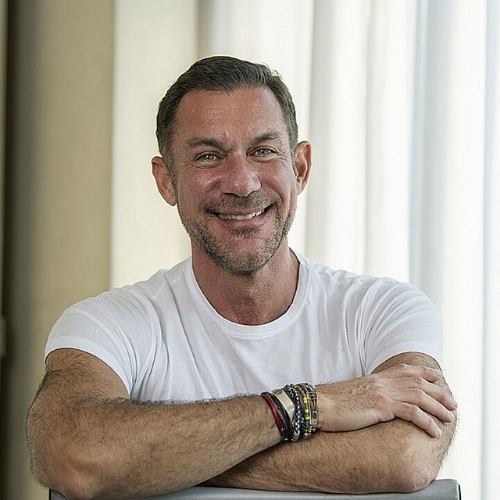 Barry Salzman was born in Zimbabwe and schooled in South Africa. He emigrated to the United States when he was 21. After an initial business career, he began working as a full-time artist.
His interest in photography began as a teenager when he was moved to document racially segregated areas under Apartheid, in an effort to understand the racial inequality that surrounded him. Today, his work continues to explore challenging social, political, and economic issues. For the last seven years, he has attempted to confront the universal fatigue around the genocide narrative.
SELECT PROJECTS
"It Never Rained on Rhodes," 2014. It explores themes of loss and identity, particularly loss of heritage as we become an increasingly homogenized and ahistorical society. Through the lens of the last surviving Jews of Rhodes, including many who survived Auschwitz, and their descendants, that project considers fragmentation of life and community, and the interrelationships between place, heritage and identity.
"The Other Side of Christmas," 2014. Echoing Robert Frank, this project explores what "one naturalized American finds to see in the United States." In its critique of the American Dream, the work pierces the veil of America's official image of equality and opportunity, comfort and confidence. It is made more poignant by its timing, offering a window into underlying sentiment that fed into the Trump presidency.
"How We See The World," 2015-present. Abstract landscape works shot within witness distance of sites of modern day genocide commenting on how we see and bear witness. In contrast to the precise locations, the images are intentionally non-specific as a means of reminding us that 'that place' can be 'any place'. The work is intended to be a counterpoint to the way information on this topic is typically disseminated -- through the lens of the photojournalist, historian or documentarian.
"The Day I Became Another Genocide Victim," 2018. A series of posthumous portraits of genocide victims in Rwanda, as imagined through the clothes they wore the day they were murdered, as recovered from a mass grave discovered in 2018, almost 25 years after 1 million people were murdered in the 100-day genocide.
EXHIBITIONS
Solo exhibition of "The Day I Became Another Genocide Victim" at The Johannesburg Holocaust and Genocide Museum, South Africa, 2020. (Note: This exhibition was canceled due to Covid-19.)
Solo exhibition of "The Other Side of Christmas" at Deepest Darkest Art Gallery, Cape Town, South Africa, 2019.
Group exhibition "Psithurism" at Daor Contemporary, Cape Town, South Africa showcasing African landscape work, 2019-2020.
Camera Club of New York Annual Auction, December 2015.
SVA Open House, New York City, December 2012, March 2013, December 2013.
GLAAD Art Auction, New York City, November 2013.
SCREENINGS AND FESTIVALS
International screenings of video from "It Never Rained on Rhodes" photo/video installation:
70th Anniversary Commemoration of Deportation from Rhodes Island, Rhodes Island, Greece, July 2014
Los Angeles Sephardic Jewish Film Festival, November 2014
18th Annual New York Sephardic Jewish Film Festival, March 2015
Festival of Tolerance, Zagreb, Croatia, March 2015
Festival of Tolerance, Slovenia, January 2016
PUBLICATIONS
"The Day I Became Another Genocide Victim," Something We Africans Got, Issue #9, 2019
"Sharing Makes the Picture: The Ubiquity of Image Sharing in Social Media Networks," Vision Anew: The Lens and Screen Arts, Edited by Adam Bell and Charles Traub, University of California Press, 2015
"Inside Banksy's Dismaland with Artist Barry Salzman," designboom.com, September, 2015.
"All The Best, Alice," 2013 and 2014
EDUCATION
MFA Photography, Video and Related Media, School of Visual Arts, New York, NY, 2014
MBA Harvard Business School, Boston, MA, 1989
Bachelor of Business Science, University of Cape Town, 1984
PRESS AND MEDIA
Select press coverage at www.barrysalzman.net 
Read More
There are currently no artworks by this artist available on Latitudes. Please contact info@latitudes.online if you would like us to source works.