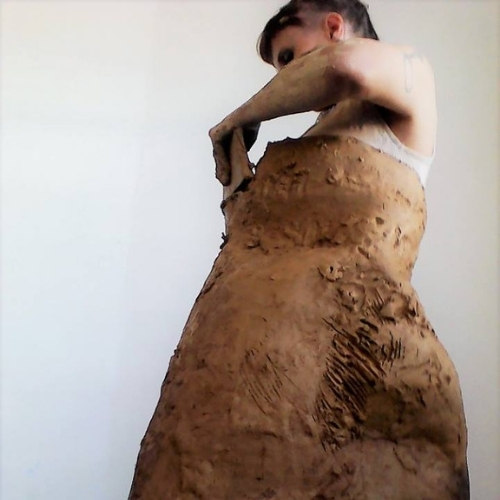 Emerging in the early 1990s, Belinda Blignaut was one of the group of young Johannesburg based conceptual and experimental artists whose work served as a commentary on the social and political uncertainty of South Africa, often in challenging or, at the very least, critical terms. Belinda Blignaut's work suggests an urgency for protest and change.
Through varied mediums and series over decades, she has been processing issues around transformation, with the body at the centre of all. Through an engagement with readily available and everyday materials, processing immediate surroundings, she hopes to translate the ways we adapt, a quiet visceral investigation into life and the creative process.
Surfacing in all she does is an exploration into a more fluid world, to actively resist the effects of institutionalized culture. Her work of the past decade takes her interest in materiality as a metaphor for psychological transformation into an ongoing series of sculptural clay vessels, a love affair with earth and organic matter. There are purely intuitive hand-built shapes, often cut and joined, setting out to make 'an other' whole. Through these intuitive choices and tactile joining processes, intimacy with the material is experienced. In looking to create from a deeper source, Blignaut began digging her own wild clay, using it unprocessed to allow for chance, unknowns and the natural reactions between the foraged raw materials and minerals. She uses plants as glaze. Through the work Blignaut is interested in translating psychologies of person and place.
She seeks complex surfaces, unpredictable texture and 'error'. Sometimes these unknowns alter the surface through small explosions, melting or breaking, celebrating imperfection through various transmutations in this honest and raw terrain.
Read More