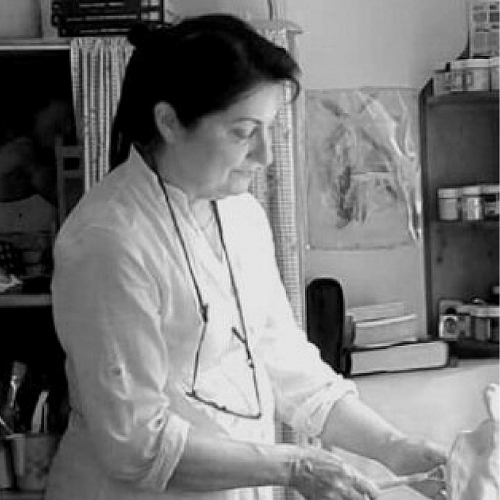 Giovanna Biallo Stone, born in 1954 in Bari, Italy graduated with an Advanced Diploma in Fine Art from the University of Cape Town in 1976.
Biallo has exhibited solo exhibitions in various major cities in South Africa from 1990 - 2019; most recently her 2019 solo exhibition of paintings, Companions: By Giovanna Biallo Stone at World Art and the group exhibition Seeds of Change: 1976 Michaelis Reunion Exhibition at Irma Stern Museum both in Cape Town, South Africa.
During 1979, Biallo lived in her native Italy for one year, where she painted landscapes alongside painter husband Simon Stone. In 1983 Biallo opened a photographic studio in Johannesburg where she worked for a period of three years. From 1988 until 1992, Biallo taught part-time at the Johannesburg Art Foundation. However, still wishing to further her skills, she studied 'Background - Foreground' with ceramist Suzette Munnik on a part-time basis during 1995. In 1996 that Biallo traveled to London with Munnik and group where they traced the history of ceramics and met with contemporary ceramists. Biallo was awarded the Ampersand Foundation fellowship in 1997 alongside her husband, Simon Stone.
Biallo is now a full-time artist living and working beside her husband in their home studios in Cape Town.
Read More
There are currently no artworks by this artist available on Latitudes. Please contact info@latitudes.online if you would like us to source works.