L'MAD Collection x Latitudes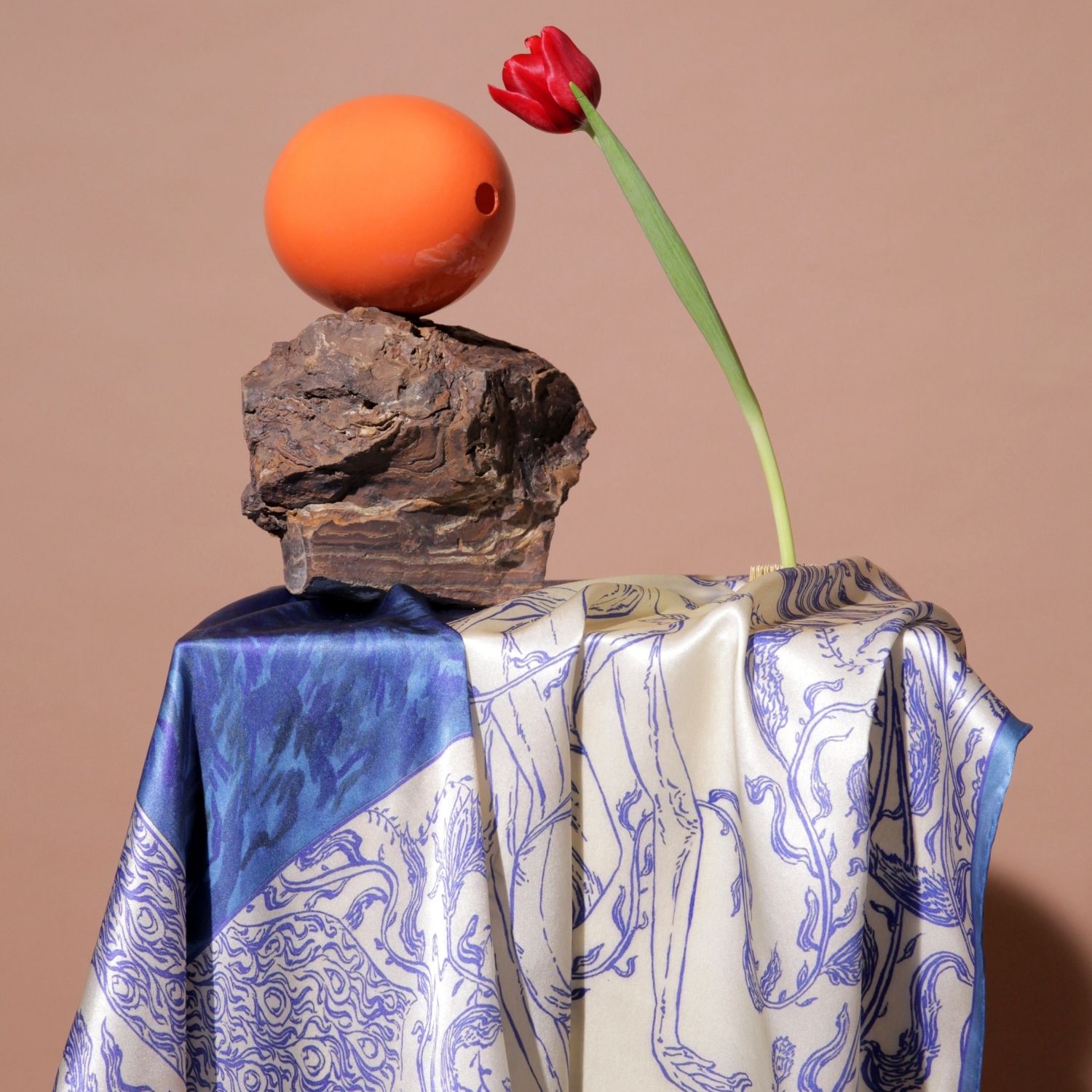 This season sees L'MAD Collection partner with Latitudes to present Made it to the life raft - a summer collection of silk scarves. The Made it to the life raft collection will be available online at Latitudes and in-store at Guillotine Design, 44 Stanley, Johannesburg.
In a groundbreaking move, Latitudes is offering an accompanying NFT with the first 25 editions of each scarf purchased on the site. This accompanying NFT serves as a Certificate of Authenticity for the limited-edition scarf. As always, our aim is to make the art world accessible, and we hope that encouraging clients to explore the world of NFTs in an accessible and familiar platform, such as Latitudes, will do exactly this.
Meet the artists in the Made it to the life raft collection:
Cinthia Sifa Mulanga: Cinthia Sifa Mulanga's work explores beauty constructs through her lived experience as an African woman. Using mixed media, she creates moments and conversations within domestic spaces, which function to challenge stereotypes and interrogate misconceptions.


Shakil Solanki: Shakil Solanki's work is informed by his South Asian heritage and identity as a queer, brown man. His deeply personal paintings and prints convey experiences of heartbreak, pain and vulnerability. 


Io Makandal: Io Makandal works primarily with drawing, photography and installation. Her practice is concerned with feminist and environmental embodiments of process and the binary between nature and artifice.


Maja Maljević: Born in Serbia and based in South Africa for over twenty years, Maja Maljević's particular style brings together drips, blocks, bands and waves of colour, as she searches for harmony between colour and form, line and shape, expansive surface and small detail. 


Jana+Koos: The multidisciplinary art collective, Jana+Koos, creates work across art, fashion, graphic design, photography, interiors and illustration, and is known for experimentation, play and their irreverent sense of humour. 


Olivié Keck: Olivié Keck relishes loud colours, juxtaposing ideas, jumbled associations and subverting expectations. There's a 'pleasure spiked with pain' feeling about her work, which captures her experience of the world. 


Pebofatso Mokoena: Painter and printmaker Pebofatso Mokoena's practice is underscored by precise mark-making and division of space. His work orbits between critical discourses across the spheres of visual art architecture, global culture and aesthetics.


Puleng Mongale: Puleng Mongale's imagined, photoshopped landscapes are vivid renderings of a life she yearns for; a form of intensely personal catharsis into which she inserts images of herself, reinventing her life and creating new contexts.
Read More
There are currently no artworks by this artist available on Latitudes. Please contact info@latitudes.online if you would like us to source works.