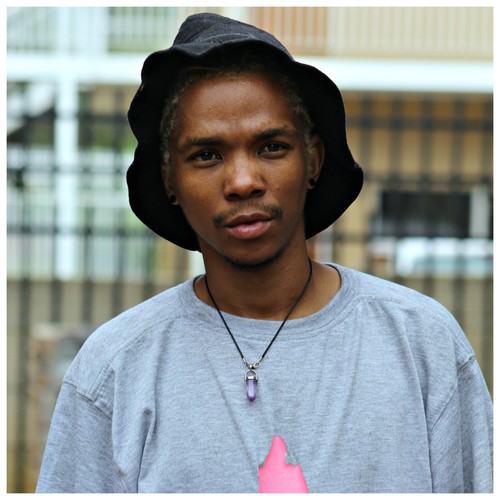 Lesego Motsiri, born in 1989, is a South African-born artist. Motsiri is a patient, hardworking, determined, and creative person. He lives in Bloemfontein, where he did 5-year B.A. Fine Arts training at UFS. He specializes in new media art (Digital Art, Photography as art, and video as art), printmaking, and painting.
Lesego took part in the District Six 50th Commemoration Print Exchange (hosted by District Six Art Museum), made it to the semi-final of the Sasol New Signatures Art Competition (2016), and was selected by Phatshoanehenney Attorney, for their 2016 calendar. From 2015 – 2017 Lesego Motsiri has been hosted at the Johannes Stegmann Art Gallery at the University of the Free State, annual student exhibition and has had a solo exhibition of 21 artworks at the Central University of Technology, Bloemfontein Art Gallery, titled The_Black_Season_17 in 2017 (student projects). The same collection of artworks was used in collaboration with Motlatsi Khotle (choreographer) for a dance theatre production titled; Black Season, which premiered at Nrnest Oppenheimer Theatre (Bloemfontein) in 2017 and 2018.
Lesego is a member of the Free State Art Collective and has taken part in the FSAC national exhibitions (Betwixt & Between and LOCKDOWN) in 2018, 2019 and LOCKDOWN (online exhibition) in 2020.. Lesego has a knee eye for unusual beauty, a high level of attention to detail, and great interest in coeducational art. "I am a committed and goal orientated individual who believes that: one is to work hard in order to achieve; one is to always be focused on the objective and be willing to go the extra mile when helping others. I am determined to achieve the best results in all I do".
Read More
There are currently no artworks by this artist available on Latitudes. Please contact [email protected] if you would like us to source works.