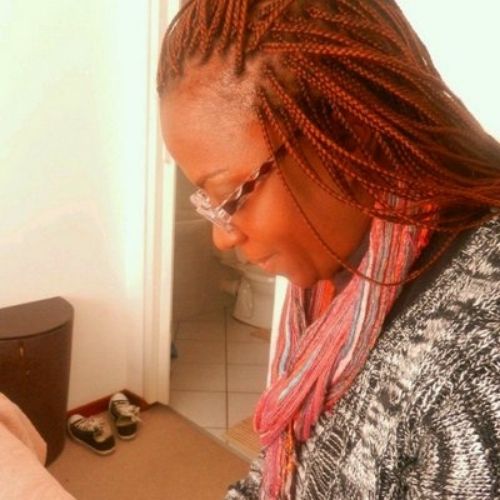 Linda's artistic journey came way back when she was in her teens from primary school days being surrounded by great talents her grandmother who was good with her hands, making clay pots and the late Flinto M. Chandia well known Zambian sculptor, instilled a philosophy of love (passion) what you do be ready to put in extra hours.
After high school Linda enrolled at Africa Literature Centre in Kitwe Zambia her birth place for a Diploma in Art and Design 1989. Upon completion she worked as a Graphic Designer for Zambia Daily Mail for a couple of years until she decided to go freelancing allowing the her to give more time to do fine art. Linda draws inspiration from her immediate surroundings social issues, nature, people's emotions, spirituality and fellow artist. The artist uses acrylic paint on hessian, pencil, charcoal, paper for mosaic and sand for texture.
Chandia has exhibited at home in Zambia ,Norway, Germany Belgium and recently in Johannesburg In 2004 she was awarded in Zambia best female artist in Visual Art ( Ngoma Award) – Zambia. She currently lives and works in South Africa as a full time artist.
Read More
There are currently no artworks by this artist available on Latitudes. Please contact [email protected] if you would like us to source works.