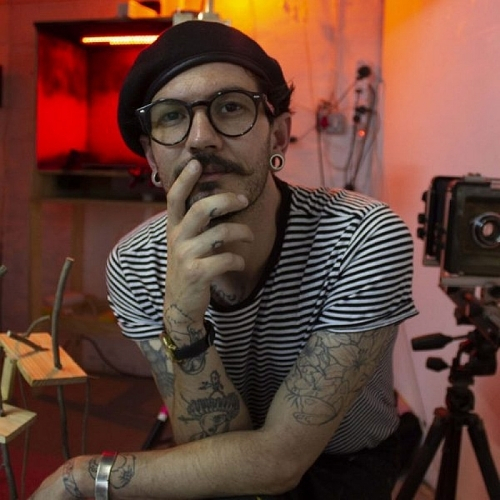 Neville Starling is a self-taught, interdisciplinary artist. Starling was born in 1988 in Bulawayo, Zimbabwe where he maintains a secondary darkroom and studio for larger works. His primary workspace is held at The Bag Factory Artist's Studios in Johannesburg, South Africa.
Motivated by his father's windows of changed personality due to Alzheimer's disease, Starling deconstructs time's relationship with memory. He examines courses of normalisation and change, the processes of forced and chosen memories, modes of individuation and collectivism, as well as the connection between future being and the cultural archive. These are examined within the interplay of reality and perception with memory, and how these are interwoven within the continuum of identity.
Although Starling amalgamates various mediums and disciplines into his works, he has reached an in-depth understanding of the photograph as object. Beyond the artist's use of found films, slides, plates and negatives from either personal, collective or institutional archives, Starling also practices various analogue photographic techniques from wet-plate collodion to the silver gelatin negative/positive process, to handcrafted printing papers as well as digital video. Starling often removes photography from its two-dimensional realm into sculptural forms. These forms, which move between individual pieces and installation, are often light-based and kinetic. From this redefinition, Starling utilises photography as an immersive tool of mnemonic, temporal and spatial enquiry. 
Starling represented Zimbabwe at the 58th Venice Biennale, May You Live In Interesting Times, 2019. He has also been selected to participate in the postponed 14th Dak'Art Biennial Ĩ 'Ndaffa / Forging / Out of the Fire, 2020. The artist's solo exhibition, Rest Until, traveled to The National Gallery of Zimbabwe in Bulawayo in 2016. Starling has an upcoming solo exhibition at Njelele Art Station in Harare, curated by Dana Whabira. Notable recent group exhibitions include: Another Kind of Blue, curated by Amé Bell at David Krut Projects as part of the Klein Karoo Nasionale Kunstefees in 2020; I had a dream, 2019, conducted by Simon Njami and Andrew Tshabangu, held at the Africa Center, New York City, U.S.A.; Lost and Found: Expectations, Uncertainty, Excitement and Hope, 2018 curated by Raphael Chikukwa at The National Gallery of Zimbabwe; the 51st edition of the Zimbabwe Annual Art Exhibition, Blood Relatives, 2018, curated by Raphael Chikukwa at the National Gallery of Zimbabwe. Starling finished runner-up in the first Zimbabwean PPC Imaginarium Awards in 2018.
Read More