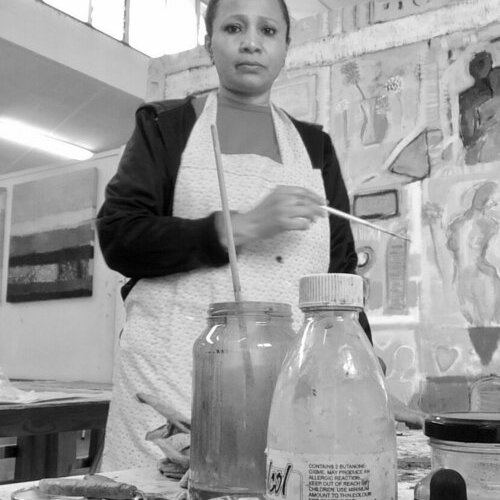 Raja Oshi is a Sudanese artist now living in South Africa. Graduated from the College of Fine and Applied Art at the Sudanese University of Science and Technology in Khartoum in 1994, her journey of diaspora, and that of her family, has taken her through Norway, Wales, France and Egypt. From 2004 to present, she has settled in Pietermaritzburg where she completed a postgraduate diploma in Fine Art from the Centre for Visual Arts at the University of KwaZulu-Natal in 2006, raised a family and has continued to paint.Raja's work is inspired by her life context and what is happening in the world. Living in Sudan, her early work depicts the situation of Sudanese women and things going on in their lives. Being part of this moved her and this came out in her paintings. Her work from that period carries the pain and the desire to change things. 
Her recent, depicts a new moment. Emerging from the desert literally and figuratively, as an artist, she wants to find something different in her art and in the process of making it - to get out of that world of pain, to experience, enjoy and find happiness in the painting and colour at this time in her life. Her work explores colour, texture, shape and design, drawing from the rich profusion of colour in her South African environment. Her workweaves and overlaps different materials and layers of paint to reveal the colours coming up from underneath. As she finds her own signature, this body of work radiates a stilled centeredness, a vibrant visual record of this time in her life.
Read More
There are currently no artworks by this artist available on Latitudes. Please contact info@latitudes.online if you would like us to source works.