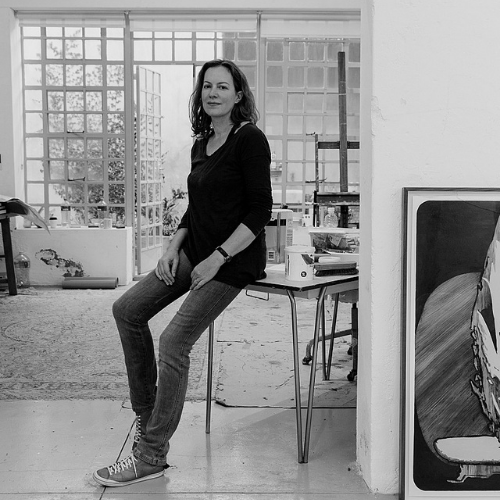 Sanell Aggenbach's (b. 1975 Cape Town, South Africa) work deals primarily with the intersection of history and private narratives by considering the process of recall and interpretation.
Her work displays an accomplished virtuosity as she moves comfortably between the various disciplines of painting, printmaking and sculpture. Since 2003, Aggenbach has focused mainly on subverted feminine tropes and feminist themes.
In her most recent solo exhibition, Bend to Her Will, she subtly and mischievously reframed the hobbyist art of flower arranging by appropriating the traditionally masculine art of Japanese Ikebana. Her sculptural work, primarily in bronze, parody Western masterpieces from Michelangelo, Henry Moore, and Warhol to Pierneef and take a refreshing look at these pivotal references from a woman's perspective.
Aggenbach currently lives and works in Woodstock, Cape Town. Her explorative work has secured her many achievements including winning the Absa L'Atelier Award in 2003. Her work is represented in numerous public and private collections, including Sasol, ABSA, Spier, SABC, Red Bull (Austria), the South African National Gallery, 21C Museum in Kentucky (USA) and Anglo Gold.
"My earlier works relied heavily on processing found imagery, rethinking associations and creating new fictions. These works were often an amalgamation of historic references with private narratives and forms part of a process of investigating pathologies and deconstructing the past. My primary intention is to construct subtle paradoxes by introducing a quite humour, either formally or materially." - Sanell Aggenbach
Read More