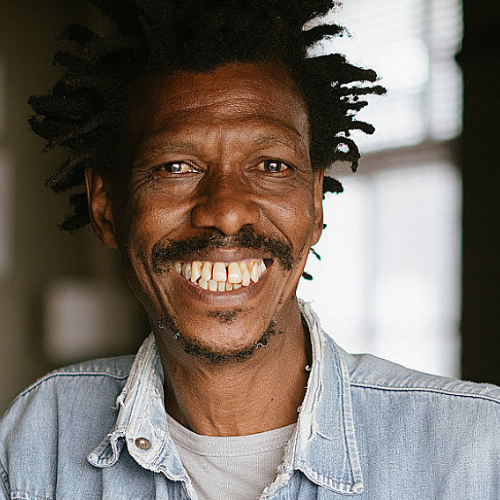 Formerly a dancer, Wonder Marthinus's life descended into chaos after a tragic accident left him severely injured. Unable to practice his craft, he eventually found himself living like a hermit on the slopes of Table Mountain.
After a chance meeting with an artist at a soup kitchen in 1995, Marthinus was introduced to Greatmore Street Studios and his art career began. His paintings walk a tightrope between being representational and abstract. He makes use of photographic material, but his images are manipulated to such a degree that they become entirely independent from the sources. Some of these images leave the viewer with absolute freedom to interpret the work as they see fit.
Born in Cape Town, where he currently lives and works, Marthinus partook in an artist residency programme at Greatmore Studios, Cape Town in 2001. He has participated in group exhibitions locally and abroad with his most recent being The Artist's Prism (2015), Eclectica Modern Gallery, Cape Town. His work forms part of a number of collections including Spier, Hollard, SAB and Nando's UK. 
Read More