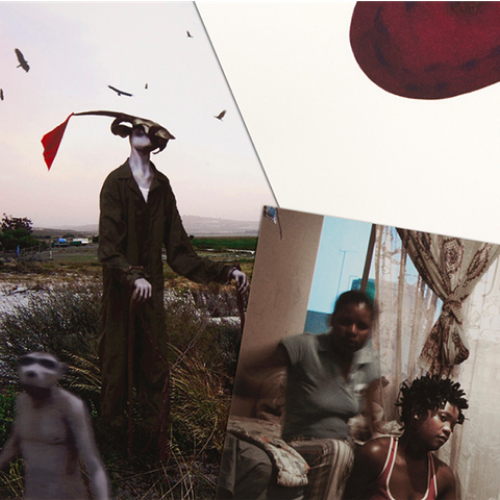 Portfolio 2 contains five photographic works by award winning South African photographers, along with a beautiful colour etching by renowned South African painter, Penny Siopis. This portfolio will be of special interest to directors of corporate art collections and museums, providing as it does a unique opportunity to acquire this important set of work.
The portfolio is presented in an archival linen box, with each print made to the highest quality, exclusively for the Editions for ArtThrob programme.  The prints in the portfolio include the following:
Jane Alexander
Harbinger in correctional uniform, lost marsh
Pigment inks on archival cotton rag paper,
46 x 56 cm
Guy Tillim
Tshililo (right) and her friends share a one-roomed apartment in Cape Agulhas, Esselen Street, Hillbrow
Pigment inks on archival cotton rag paper
Image: 35.3 x 52.4 cm
Paper: 42 x 59.4 cm
Mikhael Subotzky
Johnny Fortune
Pigment inks on archival cotton rag paper
56 x 78 cm
Nontsikelelo Veleko
Kepi in Bree Street and Nono
from the 'Beauty is in the eye of the Beholder' series
Image: 38 x 25 cm (each)
Paper: 42 x 29 cm (each)
Penny Siopis
Shame: Pools
Three-plate colour etching, with collaged plastic found objects and hand stamping
Paper: 87 x 39.5 cm
This portfolio includes editions 6/60 of each print.
ArtThrob's Portfolios collect editions 1-10 of each of our prints, 11 – 60 are sold individually.
Read More
There are currently no artworks by this artist available on Latitudes. Please contact info@latitudes.online if you would like us to source works.