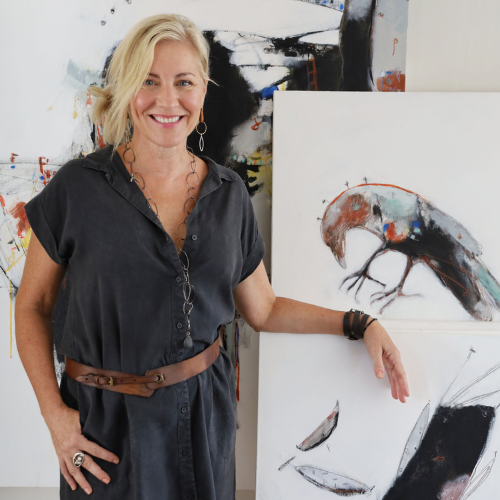 Lori Schappe-Youens was born in Madison, Wisconsin, USA in 1962. She studied Botany and Fine Arts at the University of Wisconsin. She lived in Wisconsin and Michigan while running a fine art gallery for 7 years, until moving to South Africa in 1993. In 2012, she returned to Madison, Wisconsin for five years and has since re-settled in the Kwazulu Natal region of South Africa, where she resides and paints in her Indian Ocean home and studio.
As a painter, I express my every whim, desire, dread or bit of angst through the combining of colour, texture and imagery, onto my substrate.
In 1994 I moved to South Africa. I grew there as a woman and an artist. It changed me in ways that I am only now, twenty six years later- beginning to fully comprehend. In 2012 I moved back to America, to my home state of Wisconsin. The culture shock was as difficult coming 'home' to the States as it was in my early years of settling in Africa. I lived and painted there for five years but longed for Africa. In 2016 I moved back to the KZN North Coast village of Umdloti, where I work out of my home based studio. I am a woman of two countries, of two homes- both which hold parts of my heart in equal measure. When I am on one continent, I long for the other. I don't know if I will ever make sense of it all, but through my work I can express that ever present longing.
I am an intuitive painter, and have been described as an Abstract Expressionist. My influences are a combination of the physical world around me, the landscape, the animals, the people, the politics. My relationship to the spiritual world which hovers in and around all of this and somehow gives credence into something deeper, allows me to stay buoyant and mostly centered. I find it fascinating that whatever is hovering in my subconscious will inevitably show up in my work.
I use a combination of mark making, texture, colour and mediums in my work, which allows for mystery and excitement in the finished piece.
Read More
There are currently no artworks by this artist available on Latitudes. Please contact info@latitudes.online if you would like us to source works.