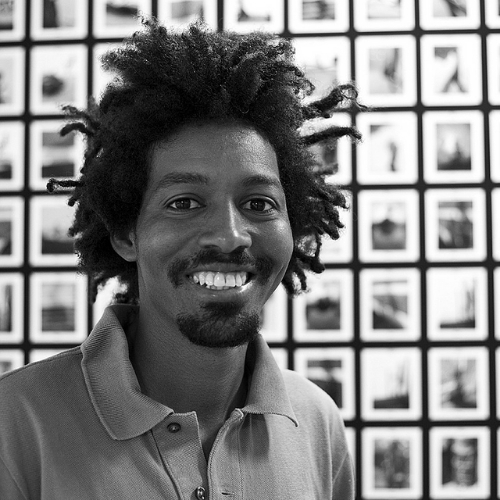 Saïdou Dicko was born in Burkina Faso in 1979. He lives and works in Paris, France. Dicko is a self-taught visual artist (photographer, videographer, installer and painter). 
At the age of five, Dicko, a Fulani Shepherd, learned to draw by collecting shadows of his sheep on the Sahel soils. Naturally, the shadow is present in all of his work. In 2005, he embarked focused on his photography and six months later, after his photographic debut, he presented his first prize-winning exhibition in the 2006 Dakar Biennial.
Through painting, photography, video or installations, Dicko transforms the representation of forms giving life to visual phenomena, to physical and psychological events of light, uniting the two extreme values ​​that are at the heart of black and white contrast. . He finds pleasure in bringing together the opposites to talk to us about equality, union, maternal love, freedom, humanity.
Since then, his work has been presented at many international events (biennials, international fairs, exhibitions). In 2012, he co-founded the collective "Rendez-Vous d'Artistes" which is a nomad platform where artists, curators, gallerists, art lovers, cultural journalists can exchange ideas. Since 2013, he has been curator and scenographer, particularly in Morocco.
His artistic work continues to evolve thanks to his travels, his experience, his various inspirations, and always his quest for a better world. His new series "The Shadowed People" is a reflection of all these years of work and research. He presents us with more and more poetic and poignant works which unveil him from day to day.
Read More